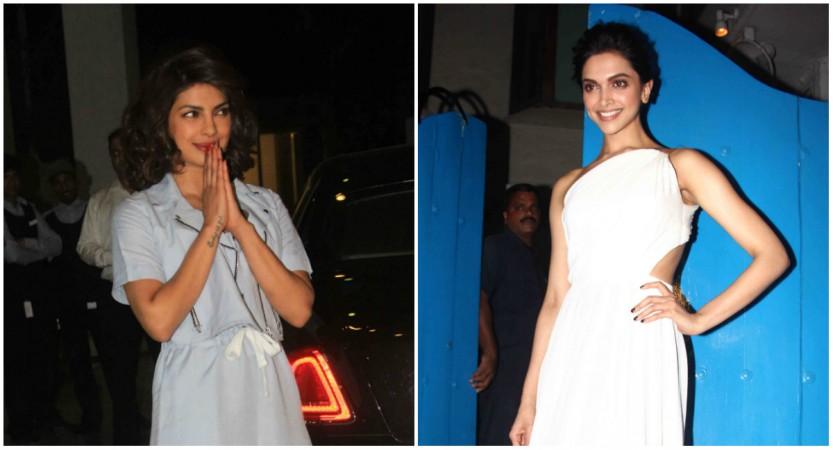 Priyanka Chopra and Deepika Padukone were once tagged the BFFs of the Hindi film industry, but that equation is said to have started to sour.
The "Quantico" actress, however, likes to believe her rapport with Deepika is just how it used to be a few years ago. "You (media) said we are friends. Earlier, you all (media) used to write we are BFF (best friend forever) so how did this change, why and how it changed? I did not say it (equation) has changed, you said it has changed," the Press Trust of India quoted her as saying.
Signs of a "Cold War"?
The actresses were scheduled to share stage at this year's International Indian Film Academy (IIFA) Awards, but Deepika apparently refused to do a joint performance, leaving the two with individual acts. At the three-day extravaganza held at Madrid, Spain, they spend time avoiding each other.
Priyanka has apparently been left disgruntled after news surfaced that Farhan Akhtar has shown interest in signing up Deepika for "Don 3." "Where Deepika and Farhan were bonding off stage, Priyanka and Farhan kept safe distance from each other. They shared the stage together for the press conference and were cordial. Apart from that, they behaved as if they were strangers and that was quite surprising," a source told BollywoodLife.
Insiders say Priyanka isn't too pleased with Deepika entering the international movie scene. However, the "Baywatch" star's recent statement has a different story to tell.
She said she is trying "open doors" for other actors and would be more than happy if they got opportunities out West. "Whoever gets good work I will always wish them well. I would wish them more success than me," the news agency quoted her as saying.