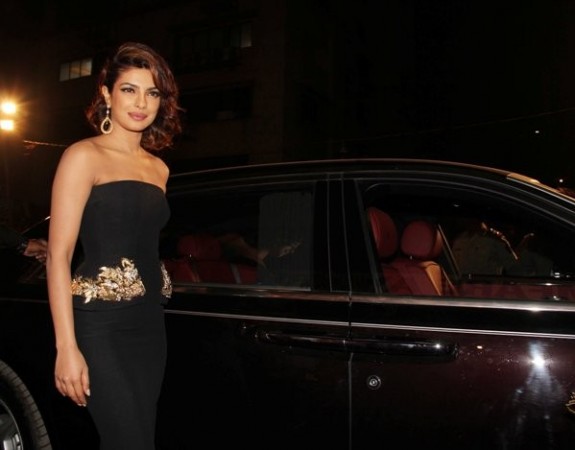 After playing the rough and tough boxer in Mary Kom biopic, Priyanka Chopra will don a different garb in the role of a politician.
The "Gunday" actress is rumoured to have toppled contemporaries Vidya Balan and Deepika Padukone, for the role of a political leader in Madhur Bhandarkar's upcoming film "Madam Jee."
Bhandarkar has reportedly been scripting the film for quite some now and had Padukone, Balan and Chopra in mind for the role. However, the director settled for his previous heroine Chopra.
"He wanted to work with Priyanka after 'Fashion.' When he was writing the script of 'Madam Jee', the story of a string woman's journey through life, he pictured PC in the role. Everyone knows that in Madhur's films, the actresses play the protagonists and that is also true of 'Madam Jee.' It will also be a realistic film as all Madhur's films," revealed a source to Bollywood Life.
According to reports, the film will have Chopra as an actress turned politician, in the lines of Tamil Nadu Chief Minister Jayalalitha.
Bhandarkar usually deals with a particular theme in each of his film as seen in "Chandni Bar", "Fashion", "Corporate" and "Heroine." And now it appears the filmmaker is set to focus on the grey area of politics with his usual female protagonist character.
Chopra had last collaborated with Bhandarkar in the super hit "Fashion" (2008), where she swept major awards for her role as the struggling model including the prestigious National Film Awards.
However, the director by signing the actress has broken his no-repetition rule. None of his previous films have repeated the same actress until now.
Moreover, donning the role of a politician seems to be a trend in Bollywood right now. Recently, Sonam Kapoor announced that she would play a young politico in "Battle for Bittora" adaptation. Kangana Ranaut, who plays the role of a local don too will be contesting elections in "Revolver Rani." Previously, Katrina Kaif has been seen as a political figure in Prakash Jha's "Rajneeti" (2010).
(Edited by Vanilla Sharma)