Priyank Sharma has been making a lot of news in the Bigg Boss 11 house, especially for his growing closeness to Benafsha Soonawala. Even their link-up rumours did the rounds on social media.
Divya Agarwal, former Splitsvilla 10 contestant and Priyank's girlfriend, had said earlier that Benafsha and Priyank are very good old friends. However, this unseen 1-minute long video of Priyank emotionally hugging Benafsha might make Divya a little uncomfortable.
In one of the unseen videos from the Bigg Boss 11 house, Priyank can be seen locking Benafsha tightly in his arms, showing his affection. Benafsha requests him to let her go for a minute as she needs to pee. She even tells him that he can hug her again when she's back but Priyank ignores her pleas and refuses to let her go. Benafsha, too surrenders herself and plants a peck on Priyank's cheeks.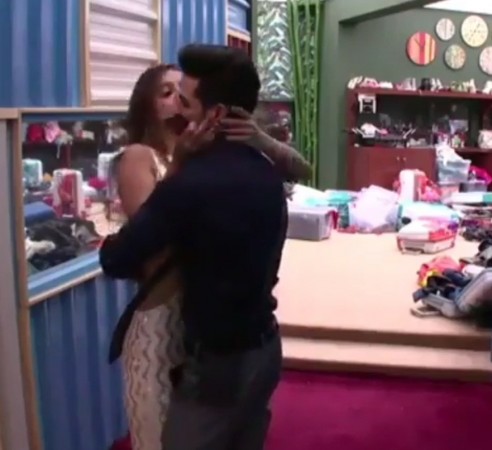 Recently, Priyank and Benafsha were seen engaged in a warm conversation where the latter openly confessed her love to her boyfriend Varun Sood, facing the camera in the house. After Priyank reentered the house last week, Benafsha got emotional and couldn't contain her tears while giving him a welcome hug.
Earlier, Divya had reacted on Priyank being linked to his good friend Benafsha Soonawala, saying that they were not insecure about their relationship.
"Priyank is in Bigg Boss. You can't expect him to sit and not talk to anyone. Benafsha and Priyank are very good old friends. It's a good thing they went in together. And Benafsha is Varun Sood's girlfriend and they have a very strong connection. I am very upset with everyone who is saying that... Splitsvilla has been over for 4 months now. We are both genuinely with each other. We fell for each other. We are not insecure. We trust each other blindly. None of us will do anything that will hurt the other," Divya told International Business Times India in her earlier interview.
Watch the unseen video from the Bigg Boss 11 house here:
Recently, Divya quashed her break-up rumours with Priyank saying that they were very much together. But after watching this video, Divya might want to come inside the Bigg Boss house and beat the hell out of both Benafsha and Priyank for getting so cosy.