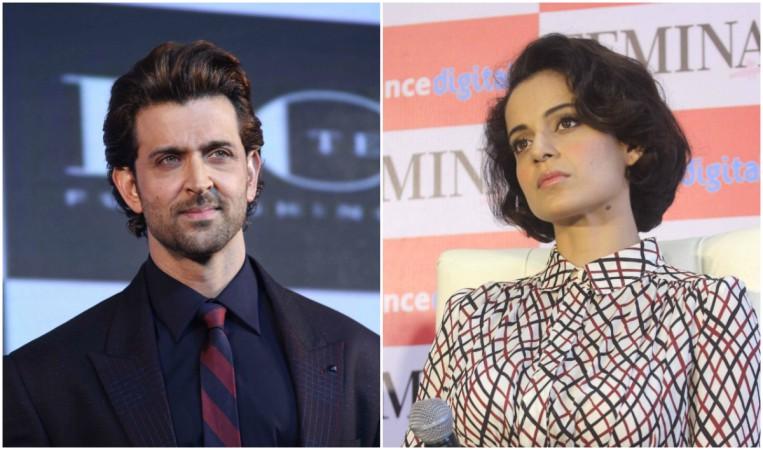 Hrithik Roshan and Kangana Ranaut's legal case appears to have shifted in the former's favour as the actor has submitted to the police copies of some of the emails that were sent to him from the "Queen" actress' email account. The emails suggest that Hrithik was never interested in Kangana and that the actress herself has written that she was in an "imaginary relationship" with him.
According to a report in DNA, the emails that were sent from Kangana's email account to Hrithik have revealed some shocking details about the case. The police are also almost convinced that Hrithik is innocent as Kangana was apparently communicating with an imposter on a fake email ID. Also, one of the emails sent from Kangana's ID said she had Asperger's Syndrome and was under the notion that she was living with Hrithik.
However, Kangana's lawyer has alleged that Hrithik had hacked into the actress' email account and some of the emails that were sent to his email ID were not genuine.
"We have gone through everything and it is now clear that Kangana was communicating with an imposter. Hrithik's forensic report shows no association with email.com. It's evident that she carried forward her communication of 6 months with the imposter. He has received over 3,000 emails from her and has established that no mails were sent to her from his email. His phone records prove that he has made four calls to her in seven years. His passport copies prove he was not in Paris when she claimed they had got engaged. We are convinced he is innocent," the report quoted a police source as saying.
Here are some of the emails reportedly sent by Kangana to Hrithik on specific dates:
Aug 17, 2014: "sometimes I feel so unsure of everything. Does our love really exist or it's just a phantasy? Is our love for real or is it an imaginary person that I talk to? Why don't you ever talk to me? If our love is real then why is it intangible? Real things are tangible, aren't they? What if someday I meet you and you tell me that you haven't received anything, you don't even know me, you never loved me. What will I do then? Will I ever recover from that revelation of that fatal reality. Will I get another chance to start all over again? Or will my life just be a broken dream?"
Aug 28, 2014: "Baby I feel when we start to date, I won't like to see your pics and news on the net like this, it confuses me and it can cause complications in our relationship."
Sep 3, 2014: "it's just that it's too hard to be sending these mails and never hearing anything back."
Oct 4, 2014: "I get up in the morning and first thing I google you. Try to find one new picture, one new interview, any news to start my day. I hope this routine ends soon and instead of googling you I could make a call to you hear your voice talk to you and start my day :)"
Oct 9, 2014: "actually I am glad you didn't pick up. What would I say? How will I sound? What is the right way of saying hi? I had so many questions in my mind that I was on the verge of a hysteria. :) I love you jaan."
Nov 1, 2014: "baby I can't believe I met you. You look so sexy. i don't remember what all I said. I was so nervous, this is the thing I am a different person on my own but when I ma with you, I am so nervous like a teenager I was getting knots in my stomach that's how you make me feel."
Aug 22, 2014: "I hope you didn't feel bad about what I wrote. I am sorry if I made you feel bad, I am really unhappy that we don't talk. Also I found out that I have Asperger syndrome. I am stressed about it. If you get time read about it. I have 98 percent of its symptoms. I realized there are many things about me that aren't normal, I am so confident all the time even in the moments of incompetence and failure, it seems unnatural to me and to everyone around me."
Aug 23, 2014: "Hi, what did you decide? Will you tell me or should I wait till your divorce goes through? I fell confused what if after your divorce you refuse to talk to me. What will I do? In this syndrome people sometimes have imaginary relationship. I have told you I have been living with you for sometime now."
On coming to know about Kangana's emails to Hrithik, her sister Rangoli too had communicated with the actor, asking him to "leave her alone." Hrithik, on the other hand, told Rangoli that Kangana has been communicating with an imposter, according to the daily.
Rangoli's email to Hrithik on May 25, 2014: "Hi Hrithik I have attached a mail from you that kangana one day sent me by mistake. But today that mistake makes all the sense during your relationship with her, you hacked her account and you forced her to record many videos and click pictures as well in this mail you are clearly accepting everything. Kangana is already very hurt leave her alone now."
Hrithik's reply to Rangoli on May 25, 2014: Please come and meet me. I have no idea what u are talking about rangoli. I can assure you I have not sent any such mail. If this is a joke its not funny. And if u are serious, u must meet me and get to the bottom of it. I am free post 27th."
While Rangoli agreed to meet Hrithik, the actor further said that the email ID she had referred to was not his and that somebody was "playing a trick."
Nevertheless, Kangana's lawyer has said that Hrithik had hacked into her email account multiple times and had sent some of the above-mentioned emails to himself from her email account.
"My client Kangana Ranaut has alleged that Hrithik Roshan was continuously hacking her email accounts due to which she was forced to shut and abandon her two primary email accounts more than 8 months ago. These allegations were also contained in my counter notice cum reply dated 1st March 2016, to which Hrithik has still not replied to despite lapse of more than fifty days.
"It is a matter of record that Hrithik filed his FIR only on the 5th of March 2016, that is, after my client claimed that her emails were hacked. It is therefore apparent that the emails that Hirthik is referring to or relying upon, in all probability is not genuine at all and could largely be fabricated. In any event, my client is bold enough to admit and accept the emails which were genuinely communicated to Hrithik on his correct email ID, only once she verifies the contents of the same," the Times of India quoted advocate Rizwan Siddiquee as saying.