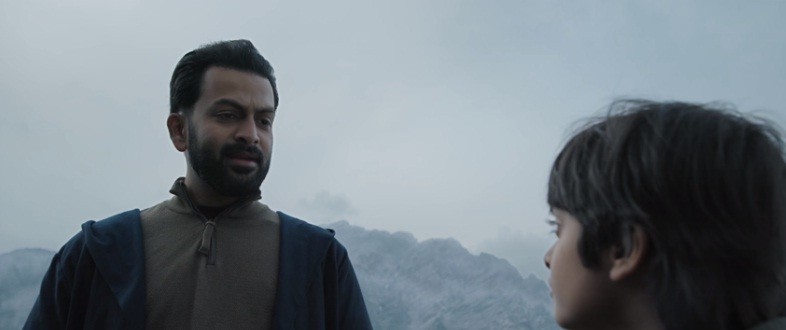 Prithviraj Sukumaran, the stylish hunk in Mollywood, released the trailer of his much-anticipated movie Nine (9) on January 9 via his official Facebook page. After releasing the video, Prithviraj Sukumaran revealed that this upcoming flick will be a heart-touching thriller that narrates the story of a father and son.
"Albert and Adam. Father and Son. When forces within and beyond this world conspire to take his son away, how far will Albert go to not lose Adam? How hard will the father fight for his son?" wrote Prithviraj on his Facebook post.
Nine: A brilliant sci-fi movie waiting on the store
The trailer of the film indicates that 'Nine' will be an engaging thriller set in the backdrop of a foreign country. Most of the visuals in the trailer are dark, and it literally resembled Manoj Night Shyamalan's sci-fi flicks. Interestingly, the trailer also shows a comet or possibly an alien UFO hovering across the skies, and this points to the fact that Nine will be more like a Hollywood visual spectacle which Mollywood has never witnessed.
Nine is directed by Jenuse Mohammed who made his debut in the Malayalam film industry with the movie '100 Days of Love'. Apart from Prithviraj, the film also stars Prakash Raj, Wamiqa Gabbi, Mamta Mohandas, Tony Luke, and Adhil Ibrahim in other prominent roles. The film is bankrolled by Prithviraj's wife Supriya Menon and will be distributed by Sony Pictures.
Is Prithviraj Sukumaran a part of Illuminati?
As Prithviraj Sukumaran is continuously trying hard to take the Malayalam film industry to an all new level, a section of social media users has started claiming that the actor is a part of Illuminati, an invisible group of elites who are ruling the world for unknown motives. Even though speculations surrounding celebrity involvement in Illuminati are quite common in Hollywood, this is for the first time that a Mollywood star is getting blamed for propagating Illuminati ideologies and symbols with his movies.
As per these social media users, Prithviraj Sukumaran is intentionally showing Illuminati symbols in his movies for the past few years. These users allege that Prithviraj initially tried to convey Illuminati agenda through his movie 'Ezra', a film that narrated dark secrets of Jewish Peril Conspiracy.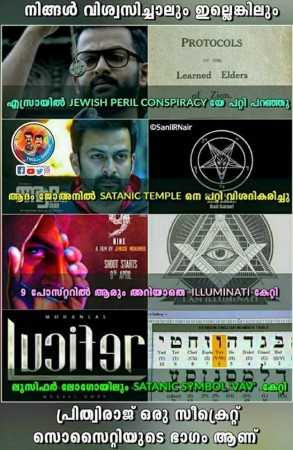 In another movie named 'Adam Joan', the Mollywood star described the story of Satanic temple and its rituals. And when it comes to 'Nine', Prithviraj Sukumaran released the first look poster with a triangle shape which conspiracy theorists believe to be the 'All Seeing Eye' of Illuminati. Some people even believe that Prithviraj has got Sony Pictures on board the movie just because of his connection with Illuminati groups.
Interestingly, Prithviraj Sukumaran's directorial venture with Mohanlal has been named 'Lucifer', and the first look teaser of the video showed Mohanlal coming in a car with the number '666', popularly known as the number of the beast.