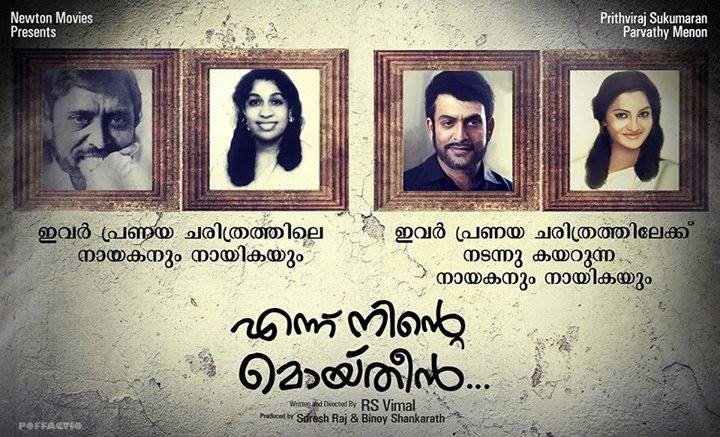 "Ennu Ninte Moideen", directed by RS Vimal, was launched at Mascot Hotel in Thiruvananthapuram on 9 July. The film stars Prithviraj and Pravathi in the lead.
The film launch function was attended by Minister Thiruvanchoor Radhakrishnan, BJP Leader O Rajagopal, Prithviraj, Parvathi, music composer M Jayachandran, and cinematographer Jomon T John.
"Ennu Ninte Moideen" is based on the real-life love story of Moideen and Kanchanamala who lived in Mukkam near Kozhikode in Kerala.
Kanchana, a Hindu and Moideen, a Muslim were from well-respected families in Mukkam. They were friends from childhood and fell in love as they grew up. Though their parents were friends, they opposed their marriage because of religious differences. All their efforts to be together were in vain. Eventually, forced by the families, they parted their ways.
Disheartened Moideen turned to social work, then became a sports correspondent in Mathrubhumi newspaper and later produced Malayalam films in 70s and 80s. Meanwhile, Kanchana was pushed for marriage alliances by her family, but she stood strong on her decision of not getting married. She even tried to attempt suicide.
Moideen met a tragic end in a boat mishap in river Irivanchippuzha in 1982. Kanchana who is a septuagenarian now is heading 'B P Moideen Seva Mandir' in the memory of her love.
"Ennu Ninte Moideen" will tell the undying love story of Moideen and Kanchana in the silver screens. The film which is made with the background of rain will soon hit the theatres. Prithviraj will play the role of Moideen and Parvathi Menon will play Kanchana in the film.
The film also made its news when it became the first Malayalam film to have its complete story board in digital format. The film will also have Lal, Lena and Sreejith Ravi in the lead roles.
The cinematography of the film is handled by Jomon T John and editing is done by Mahesh Narayan. The music of the film is composed by Ramesh Narayan and M Jayachandran. The film will have seven songs and are sung by Shreya Ghoshal, Vijay Yesudas, Sujatha and Madhushree.
"Ennu Ninte Moideen", is well-supported by highly creative team with art direction done by Sabu Ram, costume by Kumar Edappal and make-up by Ranjith Ambady.
The film is produced by Suresh Raj and Binoy Shankarath under the banner of Newton Movies and is distributed by August Cinema Pvt Ltd.