It is almost 20 years since Princess Diana died in the tragic car accident. But details about her life still make headlines. Over the past few weeks, some shocking stories about her death, funeral, and incident before her death are becoming public.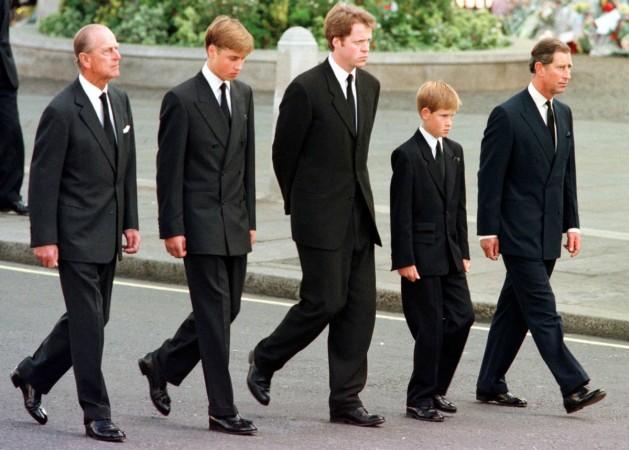 Earlier, it was revealed by Diana's brother Earl Spencer that he was lied to by a palace courtier that Prince William and Harry wanted to join the cortege whereas the truth was that the boys were persuaded by the Queen to take part. New details from the incident reveal that Prince Philip also urged the boys by saying: "I'll walk if you walk."
Also Read: Queen Elizabeth's letter after Princess Diana's death shows her majesty's emotional side
The disclosure comes from Sir Malcolm Ross, One of the Queen's most trusted aides and the courtier responsible for planning the event, Daily Mail reports. He reveals that the decision was made just a few hours before the Princess of Wales was laid to rest on September 6, 1997. The call to make the boys walk behind the casket was made during the family supper.
Helping the Queen persuade the boys, Grandpa Prince Philip decided to pitch and offer to personally accompany them if they decide to walk behind the cortege to Westminster Abbey. Ross said, "The involvement of the princes on the day, we didn't address until the last possible moment. I understand it was at a family supper on the Friday night at Buckingham Palace that the decision was made and Prince Philip, after some discussion, said to the boys, "I'll walk, if you walk"."
The most senior member of the Royal Household shared the heart breaking detail in a new ITV documentary, which will be narrated by actress Kate Winslet, Diana: The Day Britain Cried.
The decision to push the boys to walk during the funeral is something the Prince brothers still disapprove. William and Harry, who were 15 and 12 at the moment, recently spoke about the incident and expressed their distress of walking in front of the crowds.
"'It was one of the hardest things I've ever done, that walk. It felt she was almost walking along beside us to get us through it," Prince William told in a BBC documentary. "No child should be asked to do that," Harry added.
The new ITV documentary also revealed that William and Harry chose the flowers for the funeral as a tribute to their mother. The production house got in touch with royal florist Lisa Webb who helped the boys organise the floral tributes. "The flowers were chosen by the princes," she shared.