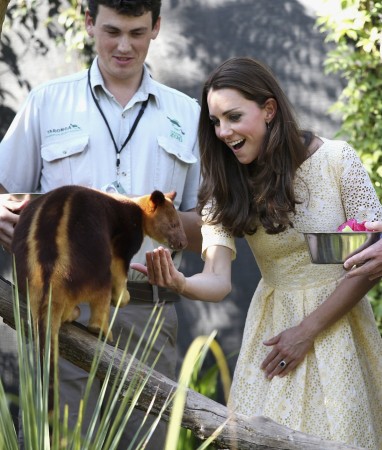 Prince William and Kate Middleton were recently spotted enjoying a dinner date at a local country hotel. The two were reportedly seen in an affectionate embrace as they made their way to The Kings Head Hotel in Great Bircham.
The royal couple went on a date sans Prince George. They apparantly left the little one with his nanny at Anmer Hall. Prince William opted for lime and soda, while Middleton went for a white wine spritzer at the hotel, according to reports.
The duo ordered grilled fillet of black bream coupled with roasted Mediterranean vegetables, baby spinach, marinated olives and oven-dried tomatoes spruced with arrabiata sauce for dinner, according to a report by Hello Magazine.
Middleton and Prince William recently shifted to Norfolk residence. The two reportedly want to lead a peaceful life away from the hustle bustle of the city. Queen Elizabeth gifted the country home to Prince William on his 30th birthday. The renovation of the house has been done and the couple is said to be enjoying their time in the lap of the nature.
The royal couple looked quite relaxed while dinning. Fellow diners were reportedly delighted to have Middleton and Prince William amongst them and many of them even went ahead and greeted them.
"William was extremely affectionate and considerate towards Kate throughout," said an eyewitness to The Express, adding, "They were quite flirtatious and couldn't keep their hands off each other."
"When they had finished their meal, a couple of locals came up to them and said hello. They smiled and were very chatty, very accommodating. My overwhelming feeling was how normal they were. They just seemed happy to mix with the locals," added the source.
The two have been busy of late with tours. They also attended various royal events in the past few weeks. It seems the couple really wanted some time off to unwind. They spent almost two hours in the restaurant, as per the reports.
Meanwhile, Middleton has been long plagued by second pregnancy rumours. However, it seems the duchess of Cambridge is busy with the upbringing of Prince George for now. It is said that the couple want to raise their son in a calm and quite environment where there is less media scrutiny.