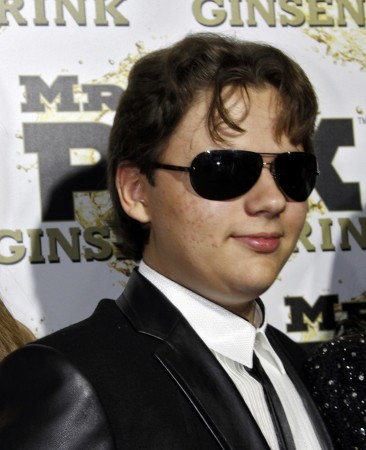 Prince Jackson, the eldest son of the late Michael Jackson, will turn 18-years-old in February, and his family members believe that he will self-destruct once he is no longer under their control, according to a report.
Prince is also said to have distanced himself from his siblings, and according to a Radar Online insider, he has stopped talking to his sister Paris.
"He's been distancing himself from his siblings for some time now. He barely speaks to his sister Paris right now. Prince is young and arrogant and seemingly already considers himself to be royalty," the insider said, adding that the 17-year-old does not like to be told what to do. He is therefore said to be at odds with his legal guardians -- grandmother, Katherine Jackson and cousin T J Jackson.

Once he turns 18, Prince will have access to the money that was invested on his behalf, and there are concerns that freedom and large amounts of cash could cause more harm than good.
"As Prince Jackson gets ready to turn eighteen his family is concerned that he is growing up too quickly," a family insider told Radar Online. "There are also big concerns over his inheritance because he will be an adult with more money than one can even imagine."
As for his relationship with his siblings, it is not immediately known why he is maintaining a distance. But news of a tension between Prince and Paris gained momentum after the latter tried to commit suicide last year.
At the time it was reported that constant fights with Prince, which started after Paris started getting close to their mother Debbie Rowe, was one of the factors that prompted her to attempt suicide.
"[Paris and Prince] were always so insanely close until Debbie came back in the picture, and Paris wanted to get close with her," an insider explained to Us Weekly at the time. "Paris wanted her mom in her life, but Paris was younger and Prince remembers all of the awful things Michael told them about Debbie. Prince feels Paris is betraying their father by getting close to Debbie."