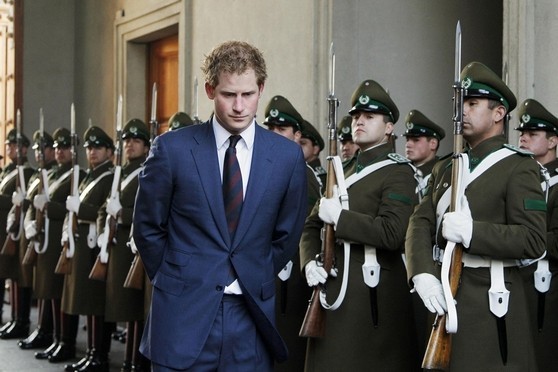 Prince Harry became a Chilean shanty town's sweetheart, after he fixed the TV of a family, hours before the Brazil-Chile match.
Harry was on a three-day visit to Chile. He turned a repairman, while on a visit to local village El Vergel, which was destroyed in wildfire.
An Arsenal fan, Prince Harry was visiting the temporary home of Coa Perez, 50, who had lost her house in the fire and now lives in a temporary shed, along with her teenage son and daughter. The kids were eagerly trying to fix the TV to watch the World Cup match, when Harry walked into their home.
"He looked at it and he started to fiddle with the cable. He managed to get it working so we could watch Chile playing Brazil. Now I can tell everyone that Prince Harry is my TV repair man," Perez said, as reported by Mirror.
While the family was in absolute awe of the young prince, many others in the village of El Vergel hailed the monarch as a 'sweetheart'.
The prince was in El Vergel, where many slums are being rebuilt following a forest fire in April, which destroyed thousands of homes in the area.
Harry was specially invited by the charity Techo, which has been helping the villagers to build new homes.
Since the start, Harry's Chile visit has gained much news coverage. On the first day of his visit, the 29-year-old promptly received a marriage proposal, from a girl named Middleton.
TV reporter Bernardita Middleton, wearing a tiara, caught the eye of the young Prince, and he reportedly told her: "I like your tiara - very smart".
To which Bernardita, who hosts the show Bienvenidos on Chile's Channel 13, replied: "I am a Middleton, like Princess Kate. I be your next wife Harry".
However, Harry, with a sheepish giggle, quietly walked away, meeting other people in the crowd.
Twitter reactions:
Who said the royal family are an outdated institution who don't do anything for anyone? Nice one Harry #RoyalRepairs http://t.co/SaXL1s7sai

— Rob (@opsins) June 29, 2014
Prince Harry, King of Hearts: Smiling prince shows he's got his mother's touch as he visits... http://t.co/SaBYzEIDe9

— ChezRanti (@ChezRanti) June 29, 2014
#Telmi #Entertainment | Held von Chile: Prinz Harry hat Fernseher für WM-Fans repariert: Bei seinem Besuch im... http://t.co/rqO8o7reZh

— DJ Telmi (@DJTelmi) June 29, 2014
Prince Harry fixes family's television during visit to Chile http://t.co/HoRnxk6VMe via @MailOnline

— ChateauRosettes (@ChateauRosettes) June 28, 2014