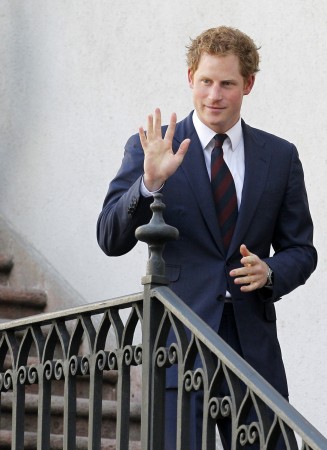 If Prince Harry accepts the latest marriage proposal from a girl, the royal family will have another member with the name, 'Middleton'.
The Royal celebrity, who is currently in a three-day tour of Chile, received a surprise marriage proposal from a journalist named Bernardita Middleton in the streets of Santiago, much to his embarrassment.
As the Prince was taking a brief walk in the country's capital city, a TV reporter in the crowd was wearing a tiara caught his eye.
Seeing the tiara, the prince told her: "I like your tiara – very smart," the Telegraph reports.
But what came as a reply from the woman, who reportedly works as a television reporter with the morning show Bienvenidos of Chile's Channel 13, surprised the royal personality, to say the least.
"I am a Middleton, like Princess Kate. I (will) be your next wife Haaaaaary," she was quoted as saying by the British daily.
During the 2011 Royal wedding of Prince William and Kate Middleton, millions of people around the world saw the chemistry between Prince Harry and Pippa Middleton and thought they might date.
That never happened. But little did he know that there was another 'Middleton' who would appear, albeit briefly, in the royal heart-throb's life.
A proposal from Bernardita #Middleton & she's already wearing the crown jewels. Bit presumptuous #HarryinChile #royal pic.twitter.com/dYs68MNJ2o

— Gabriel O'Rorke (@GabrielORorke) June 27, 2014
After the on-street proposal, the newly single Prince giggled and quickly moved on as young women were heard shouting "Harry, we love you," the Express reports.
He was on the walkabout during the beginning of the brief tour of South American country. The prince also laid a wreath at the monument to Chile's founding father Bernardo O'Higgings in the capital city.
Having just arrived from Brazil, which saw temperatures of 30 degree celsius, Harry found himself shivering in the weather of Chile.
"It's a little bit colder than I thought it would be," he told one reporter