After months of speculations, the Royals have finally confirmed that Prince Harry is engaged to his girlfriend Meghan Markle. The confirmation was posted on Twitter by Prince Charles' Clarence House handle.
Hours after the news was confirmed, Harry and his fiancé Markle posed for the camera as the latter flaunted her engagement ring. Officiating the engagement, Prince Harry looked handsome (breaking many hearts) in a royal blue blazer whereas Markle wore a crisp white coat by LINE over an emerald dress by P.A.R.O.S.H.
Also Read: Prince Harry-Meghan Markle engaged: Couple's wedding to steal pregnant Kate Middleton's third baby spotlight
She completed the look with Aquazzura strappy nude pumps. But the highlight of the attire was her engagement ring that is deemed priceless, made by Queen Elizabeth II's preferred jeweller, Cleave and Company.
Time reports that the centre diamond is from Botswana, where Harry spent most of his time growing up, and the surrounding two diamonds are from Princess Diana's collection.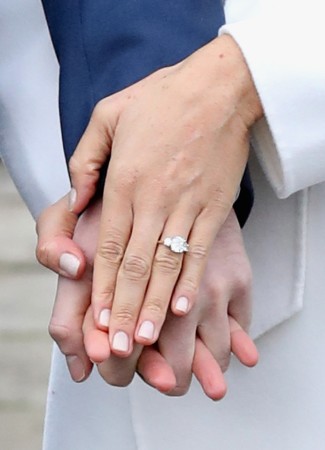 Markle's choice of clothing for the important announcement was perfect. The American actress chose to follow Kate Middleton's way of royal styling by opting attire that is easily replicable. Harry also contributed to her OOTD with an easily replicable engagement ring for the royal fans.
So, here's how you can recreate Meghan Markle's engagement oufit:
Dress:
The dress by LINE is easily available online; however, it is sold out at the moment. As soon as Markle stepped out wearing the Canadian brand's $CAD700 ($823) overcoat, the website went on a meltdown and LINE's website crashed soon after.
"We are incredibly honoured that Meghan chose to wear a LINE coat to mark this very special occasion," LINE president and co-founder John Muscat told USA Today.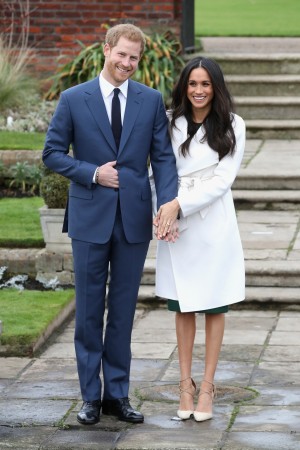 "Meghan has an effortlessly chic sense of style, which we've always admired. We know this particular coat is one of her favourite pieces so we have officially decided to name it the 'Meghan'. We are elated for Meghan and wish her a lifetime of happiness with Prince Harry," he said.
Ring:
Though you cannot buy the actual ring considering it was specifically designed by Harry for his lady love, a ring with a similar design is available online. The Sun reports that the lookalike ring is available on Argos for $33.
Argos' revere 18ct gold plated silver 1.5ct 3 stoned ring costs £32.99 is only available in a store at the high street shop. Instead of diamonds, you get cubic zirconia. The ring is available in different sizes, the site reports.