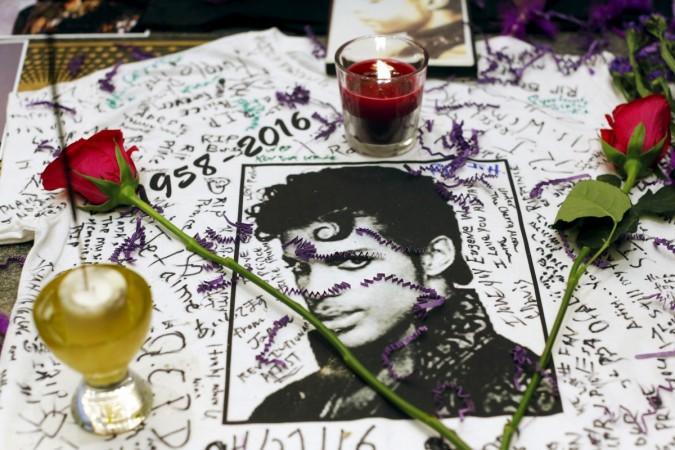 Prince Rogers Nelson, best known by his stage name Prince, died at his Paisley Park recording studio and home in Chanhassen, Minnesota, on Thursday, April 21. He had been facing health issues since the last couple of weeks and he even cut his tour short on April 15, before getting admitted to a hospital with flu-related symptoms.
Prince was one of the most respected and beloved artists of the generation and fans from all over the world are mourning his death. Many celebrities, including musicians, actors and sportsmen, have also been grieving and sharing their condolences over social media.
Demi Lovato tweeted that she has been mourning Prince's death much like she did Michael Jackson and Whitney Houston's, by playing his "music on repeat all day." The "Confident" singer is joined by other musicians who have all been sharing their pain on social media.
Omg..... RIP Prince....

— Demi Lovato (@ddlovato) April 21, 2016
To die, is only to live on in the songs, forever. #Prince, thank you! https://t.co/IHTfymcZaA — VISHAL DADLANI (@VishalDadlani) April 22, 2016
Prince, NOTHING COMPARES... #RIPPrince... https://t.co/KAserIRfgD pic.twitter.com/6qyF7VqNtV

— Justin Timberlake (@jtimberlake) April 21, 2016
my heart is broken. A legend and one of the greatest musicians of all time is no longer with... https://t.co/Ds7letQve6 — Meghan Trainor (@Meghan_Trainor) April 21, 2016
Rest in Peace one of d best all rounder musicians of all times, PRINCE... You made a monumental impact on Music. Prayers

— Sonu Nigam (@sonunigam) April 21, 2016
"Suits" star Gabriel Macht and "White Collar" star Matt Bomer also expressed their condolences via tweets:
Wherever it rained today we know what color it was...2 an American TREASURE. #RIPPrince — Gabriel Macht (@GabrielMacht) April 22, 2016
#RIPPrince. Way too young. Your music lives on 4ever- and that's a mighty long time-badass concert 2nite in the afterworld.

— Matt Bomer (@MattBomer) April 22, 2016
Comedians like Jeff Ross and Seth Meyers also expressed their condolences on social media:
Spontaneous #Prince dance party tribute in Cooper Square right now. #IWouldDieForYou pic.twitter.com/uMVtAxrSji — Jeff Ross (@realjeffreyross) April 22, 2016
RIP Prince. The only person I ever saw a crowd part for.

— Seth Meyers (@sethmeyers) April 21, 2016
Los Angeles Lakers player Nick Young also seems to have been affected deeply by the death and he has been sharing a series of tweets and Instagram posts expressing his sadness.
Bollywood stars have also been feeling the void left by Prince in the entertainment industry:
Y do v scream at each other...this is wot it sounds like when doves cry.Memories entwined in his songs. RIP Purple 1 formerly known as Prince — Shah Rukh Khan (@iamsrk) April 21, 2016
A legend is no more. RIP Prince. He has inspired generations of musicians world over. Purple Rain my fav song.

— Madhuri Dixit-Nene (@MadhuriDixit) April 22, 2016
"Quantico" star Priyanka Chopra, who is celebrating the news of being chosen as one of Times 100 most influential people of 2016, also took the time to express her grief:
U owned it.. And the world.. RIP #Prince https://t.co/ZeL2nHPDgB — PRIYANKA (@priyankachopra) April 22, 2016