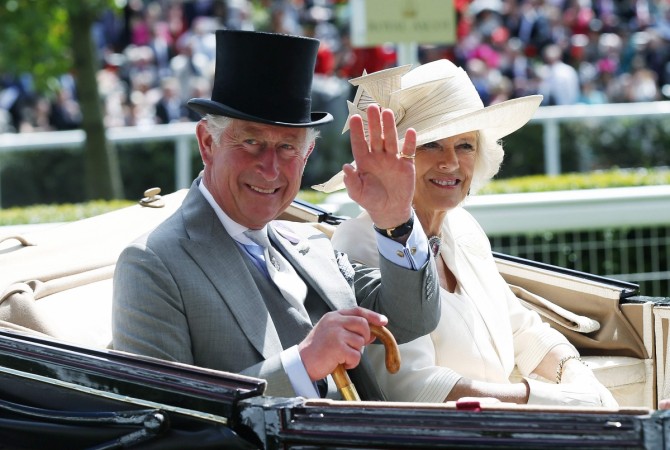 Divorce rumours surrounding Prince Charles and his wife Camilla has gained traction after a new report claimed that the Duchess of Cornwall was "wasted" during a recent official trip.
Prince Charles and Camilla had visited the Camel Valley vineyard at Nanstallon, near Bodmin, Cornwall, on Wednesday, and the Duchess drank more than her fair share of wine during the visit, a Celeb Dirty Laundry report noted.
A tipsy Camilla was reportedly slurring her words and couldn't even stand straight. Camilla, who was gifted with a £399 Methuselah of sparking rose, a 2012 pinot noir equivalent to nine normal bottles, during the tour even sparked a controversy when she told winemakers that their product shouldn't be called British sparkling wine, Express noted.
"I still don't think it should be called British sparkling wine. I think we should come up with a name for British sparkling wine – because it is champagne and it's very good champagne. It should have a special name. I'm always waiting for people to come up with good ideas," she said, according to the Express.
Media reports noted that the French champagne wineries aren't going to be pleased with Camilla's comment, as the word champagne can be applied only to the sparkling wine made in the Reims, France.
When Camilla had made similar comments in 2011, French food and drink experts were less than impressed with her.
"The law is the law. If you want to change it, you can lobby to do so. But only an Aston Martin can call itself an Aston Martin. Champagne is our brand," Olivier Prothon at the French Trade Commission told the Telegraph at the time.
Camilla has been at the centre of a number of controversies, the most recent one being her alleged admission about the truth behind Princess Diana's death.
The 28 July print edition of GLOBE reports that Camilla confessed to Kate Middleton that Prince Charles is responsible for Diana's death, and the Duchess of Cornwall reportedly feels that she is his next target.
A previous edition of GLOBE magazine noted that Camilla has a lot of dirt on the royal family, and that she asked for a pay check of $350 million to keep her silence. However, since Camilla fears that the best solution to the problem would be to kill her so that the secrets don't come out, she anticipates being the "next" target, Celeb Dirty Laundry had reported.