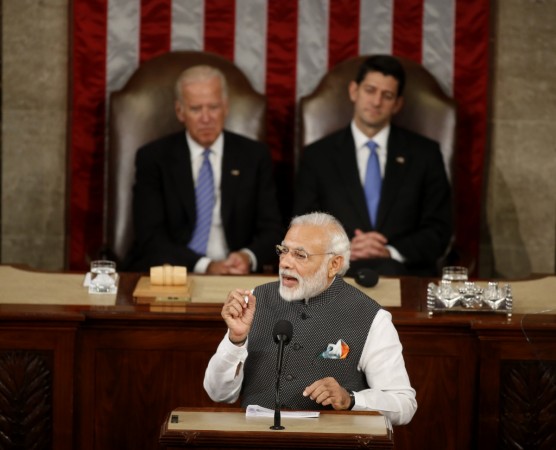 The Barack Obama administration has called Indian Prime Minister Narendra Modi's vision for Indo-U.S. relationship the "Modi Doctrine," reported the Press Trust of India. Moving away from the "hesitation of history" to work towards betterment of the global good has apparently become its underlying theme.
Calling Modi's vision, laid down during his speech at the U.S. joint session on Thursday, "clear and compelling", U.S. Assistant Secretary of State for South and Central Asia Nisha Desai Biswal said: "This vision which I have come to call 'the Modi Doctrine' laid out a foreign policy that overcomes the hesitations of history and embraces the convergence between our two countries and our shared interests."
Biswas explained that the vision put across by Modi for its partnership with the U.S. includes anchoring peace, prosperity and stability from Asia to Africa and Indian Ocean to Pacific Ocean. This would mean extending security of sea lanes of commerce and freedom of navigation on the seas.
"This Modi Doctrine notes that the absence of an agreed security architecture creates uncertainty in Asia and reiterates India's adherence to and calls for others support for international laws and norms," she noted.
U.S. ambassador to India Richard Verma welcomed Modi's vision and noted his country had made a "clear and strategic choice" to support India's transition to a leading power, while upholding international norms and supporting a "principled security network" in Asia (a phrase he borrowed from defence secretary Carter).
"A leading power that can grow its economy while at the same time demonstrating global leadership on clean energy and climate," he said.
Indian MP Baijayant Panda, who was a part of Modi's entourage to the U.S., confirmed that the coinage of the term "Modi Doctrine" was not from the Indian side but by senior people in the U.S State Department. He called it "a very important way to describe it."