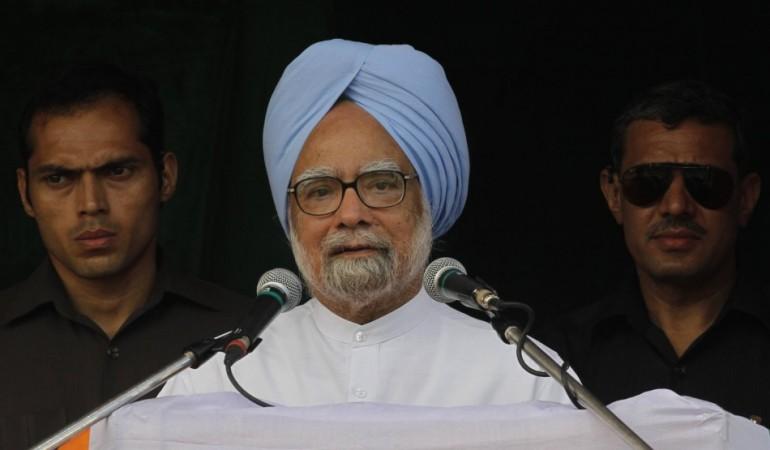 Indian Prime Minister Manmohan Singh began his three-day trip to Myanmar on Sunday along with wife Gursharan Kaur, External Affairs Minister S.M. Krishna and senior officials. It's for the first time in 25 years that an Indian PM is visiting Myanmar.
The visit is crucial to "secure a stronger and mutually beneficial relationship with a neighboring country that is integral to India's 'Look East policy'."
"India attaches the highest importance to its relations with Myanmar, which is a close friend and neighbor," the PM said in a pre-departure statement.
The PM is visiting on an invitation from Myanmar's President U Thein Sein, who came to India last year to discuss the issues between the neighbouring countries and resolve them.
"Recent years have witnessed significant strengthening and expansion of our bilateral relations. My visit to Myanmar will provide an opportunity to review the progress in the implementation of decisions taken during the highly successful State Visit of the President of Myanmar to India in October last year," the PM said.
During the visit, he will also be meeting Nobel laureate Aung San Suu Kyi, whose unrelenting fight is instrumental in bringing back democracy in the nation which only witnessed military rule for decades.
"In Yangon, I will have an opportunity to meet Aung San Suu Kyi. I also look forward to addressing a cross-section of Myanmar society and interact with the Indian and Indian-origin community," the PM said.
"We will also consider new initiatives and define a roadmap for the further development of our cooperation in the years ahead," he said, according to an IBNS report.
Singh asserted that, "Stronger trade and investment links, development of border areas, improving connectivity between our two countries and building capacity and human resources are areas that I hope to focus on during my visit."
"We also hope to sign a number of Agreements/MOUs to further strengthen our bilateral cooperation in these areas, besides promoting people-to-people contacts."
He said, "India welcomes Myanmar's transition to democratic governance and the steps taken by the Government of Myanmar towards a more broad based and inclusive reconciliation process. We stand ready to share our democratic experiences with Myanmar."
He added, "I look forward to visiting the historic Shwedagon Pagoda, a testament to 2600 years of Buddhist heritage, and the Mazar of the last Emperor of India, Bahadur Shah Zafar, in Yangon."
"We remain committed to a close, cooperative and mutually beneficial partnership with the Government and people of Myanmar," Singh stated.
(With inputs from IBNS)