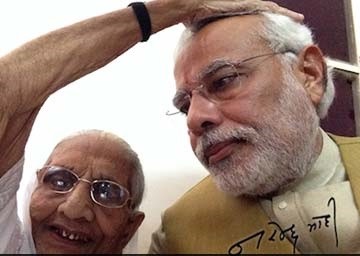 It was once again an emotional time for Narendra Modi, who after reining as the Gujarat Chief Minister for 12 years, bid goodbye to the state and headed to Delhi, where he will be sworn-in as the new Prime Minister of India on 26 May.
Bidding goodbye to his mother and the state, the next PM has only a select few belongings to be brought along to the capital, including his cook.
On Thursday afternoon, before taking the flight to Delhi, Modi headed to his brother's house in Gandhinagar to meet mother Heeraben. After giving him blessings, Heeraben gave the soon-to-be Prime Minister of India ₹101 as Shagun (good omen).
At the airport, Modi, who has served as the Gujarat CM since 7 October 2001 said: "Now that I am leaving for Delhi, as per our tradition, I would like to say 'Aavjo' to 6.25 crore people... Aavjo Gujarat," reported Hindi daily Dainik Bhaskar. In Gujarati, Aavjo when loosely translated means "goodbye for now but see you soon".
Local reports noted that as the former Gujarat CM moved to New Delhi to take up the mantle of the country, he had a very few personal belongings to take along with him.
Besides his personal belongings such as clothes and books, Modi has been very particular about taking his iPad and laptop along. Accompanying Modi was his cook, who has served him for over a decade.
Modi has also given away the salary he had earned as the Chief Minister, to be used for education of the children of the personnel in the secretariat, while all the mementos and gifts he received as the CM will be auctioned off.
The 63-year-old, who brought BJP a thumping victory in the elections, will be sworn in as the 15th Prime Minister of India on 26 May.