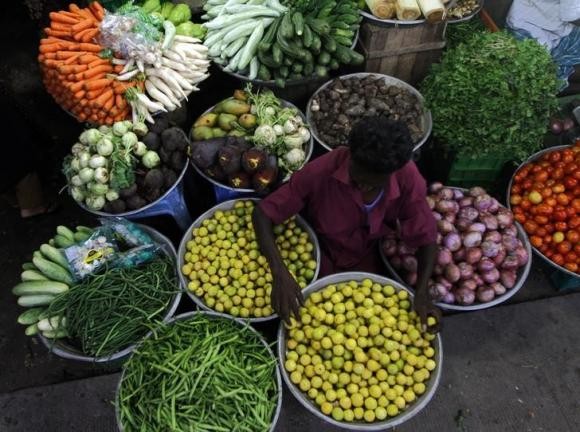 Prices of chilli and potato have doubled since March 2015, while those of other essential food items have also increased in the last few weeks. This has given rise to concern over food inflation, ahead of the Reserve Bank of India's (RBI) April 5 policy review.
Prices of wheat, maize and soya have increased between 4 and 10 percent. Palm oil prices, after a five-year low, have increased 10 percent. This has made the edible-oil basket more expensive, the Economic Times reports.
Analysts say the increasing price rise can be attributed to fall in output, which occurred due to bad weather conditions and reducing crop area. Sugar prices have witnessed the biggest rise, to the tune of 28 percent.
"Globally, sugar prices will continue to go up due to the weather problems. The next crop in India is expected to be short unless there is a surprise from UP. The prices will continue to move up in the next 12 to 24 months," Prerana Desai, vice-president (research) at Edelweiss Agri Value Chain, was quoted as saying by the daily.
Food inflation rate in January 2016 was reported at 6.85 percent. It dropped to 5.3 percent in February. This kept the inflation rate within the RBI's target of 6 percent.
Meanwhile, chilli producers say its price is unlikely to come down anytime soon.
"Last year this time, the price of chilli was Rs 60-65 per kg. It has now doubled to Rs 125 per kg. The arrivals in Guntur have halved to 30 lakh bags from 60 lakh bags this time last year. Prices are expected to double further," Anil Talera, owner of Talera Overseas, which operates from Guntur Mirchi Yard, told ET.
Over 70 percent of the country's edible oil demand is met from imports, and became dearer as prices increased in Indonesia and Malaysia. Palm oil prices have reportedly jumped 13 percent to $700 (about Rs 46,715).
The price of potato in the market has also doubled in the last one year. In March 2015, the price was Rs 9 per kg, and now it costs Rs 18 per kg, ET added.
[1 lakh = 100,000 | 1 crore = 10 million | 100 crore = 1 billion]