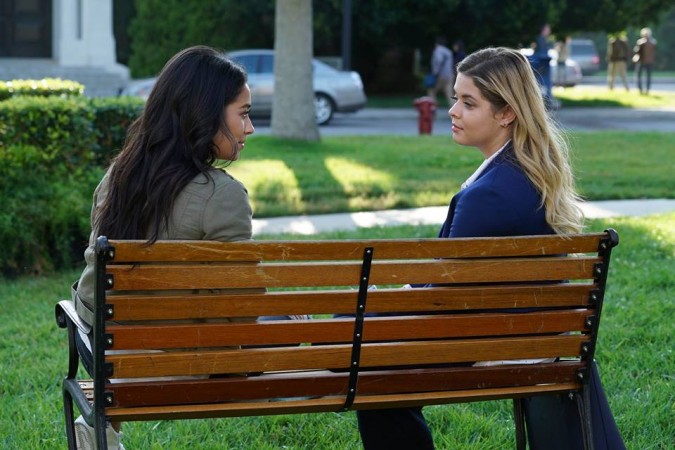 The death toll in Rosewood is set to increase before "Pretty Little Liars" wraps up Season 7A finale with the episode "The Darkest Knight." According to a press statement released by Freeform, the summer finale will see the Liars – Aria, Emily, Spencer, Hanna and Alison – facing off their enemies and it isn't going to end well for one character.
"The Liars face off with their enemies in a chaotic fight that ends fatally," according to the press release. "One of the PLLs learns a secret about her past that changes everything while another Liar discovers something about her future that could alter her course forever."
While it's not immediately known who dies, speculations are rife that it could either be Toby or Noel. As for the Liar who discovers something about her future, it could be Alison figuring out that she's pregnant with Elliot's child.
Here's what one Wikia user had to say about the possibility of Alison being pregnant.
So I was on the Warner Bros studio last week and believe it or not they were filming a scene for 7b while I was walking to the restroom I passed the Rosewood set and I saw Shay,Sasha,Troian,Ashley and one thing was out of the ordinary Sasha's stomach looked plumped and at first I thought it was her recent body weight change but then I started wondering is Ali's character pregnant?
The episode could also see Spencer or Aria finding out that she's Mary Drake's other child.
Before the finale airs, Freeform will be airing an all-day "Pretty Little Liars" marathon that will begin at 11 a.m. ET on Tuesday, August 30. The summer finale will be aired at 8 p.m. ET the same night.
Next week's episode is titled "The Wrath of Kahn" and the synopsis reads:
One of the PLLs goes rogue to prove that Noel Kahn is Uber A, while the others try to find evidence to back her theory and worry about her emotional state. Emily unexpectedly turns to Paige for comfort in her time of need, which causes tension in her other relationships. Jason and Aria team up to look into Mary's past and what she might be hiding.
"Pretty Little Liars" airs Tuesdays at 8 p.m. ET on Freeform.