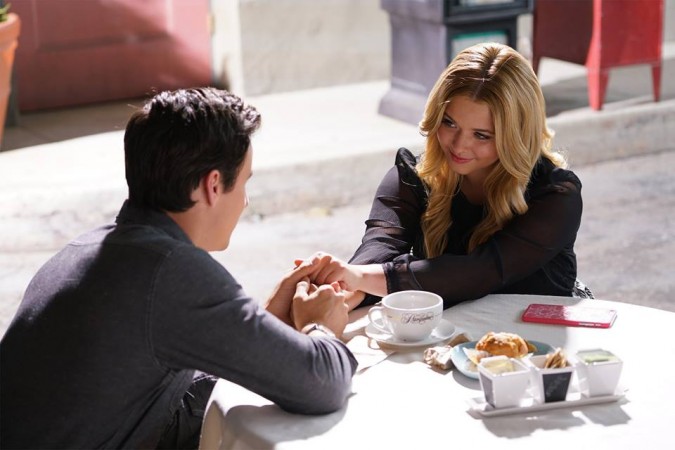 "Pretty Little Liars" is yet to give fans a complete idea of what the Carissimi Group is all about, but that will change in Season 7, promised executive producer Marlene King in a chat with The Hollywood Reporter.
"The Carissimi Group, we know, was a very well-funded organisation that Charlotte used to fund her "A"-ness," King said. "What appears at the end of the episode is Elliot and Mary want control of the Carissimi Group, which is why they drove Alison crazy. She had to sign over all her free will when she went to the mental hospital."
The season finale, titled "Hush, Hush, Sweet Liars," revealed that Dr. Rollins was Charlotte's secret boyfriend and he married Alison to gain control of the organisation. Another shocker from the finale was the introduction of Mrs DiLaurentis' twin, who happened to be Charlotte's biological mother.
The show might still have more surprises in the upcoming season. According to Bustle, British doctor Wren could also be involved in the duo's plan to take over the Carissimi Group. The publication goes on to add that Wren is Charlotte's sibling and he could be the one who introduced Dr Rollins to Charlotte.
Another factor that confirms Wren's involvement is the fact that Julian Morris is expected to return for Season 7, which could be the series finale.
"The goal is for our fave Brit to return. @mcsexian #PrettyLittleLiars #TwinOnPLL," King tweeted on March 10.
Season 6 of "Pretty Little Liars" saw Uber A, the new villain of the series, dragging what appeared to be Hanna's lifeless body through the bell tower. It is yet unknown if Hanna [Ashley Benson] is alive or not but it is unlikely that the show will kill off one of the leads.
Benson, too, hinted at the possibility of Hanna being alive when she said that her character would be in a lot of trouble for falsely admitting to killing Charlotte.
When Entertainment Tonight brought up the possibility of Hanna being killed off, Benson said: "You may not see me next season guys ... Kidding! ... But I might be in a lot of danger as well as all the other Liars, and the boys, for that matter."