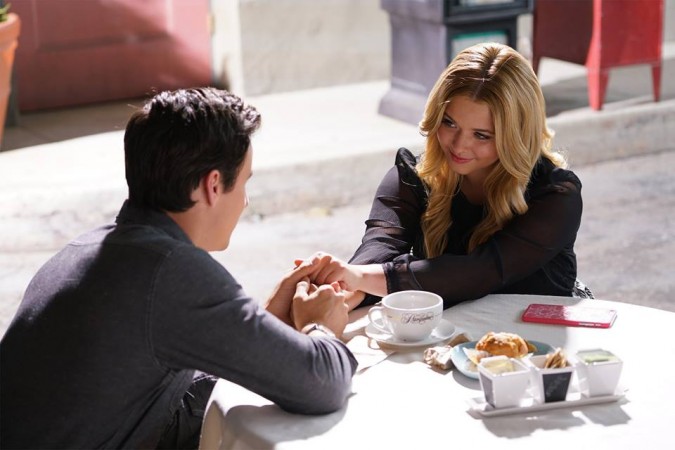 The season 6 finale of "Pretty Little Liars" introduced fans to the new villain of the series – the Uber A also known as A.D.
At this point, the show hasn't revealed much about the new villain. All that we know is he/she wants to find Charlotte's murderer and Hanna's decision to falsely take the blame has landed her in more trouble than she expected.
Could Mary Drake and Dr Rollins have something to do with "A.D"? According to actor Huw Collins, who plays Alison's husband on the teen drama, they are on top of the suspect list. However, no one, other than executive producer Marlene King, knows for sure the identity of Uber A.
"I don't think anyone but Marlene really knows the true, true answer to that," Collins told PopSugar. "And for good reason. I think it's a really interesting one. I mean, who knows? It could be Rollins. It could be Mary. At the minute, they're the top of the suspect list. They have to be. I think that it's going to be really interesting to see who it is, and why, and I think that's obviously going to have a really integral part of seeing this mystery come full circle."
Dr Rollins started out as a nice guy who just wanted what was right for Alison and Charlotte. The dark twist was unexpected, Collins added. The season finale saw Dr Rollins duping his wife Alison into thinking she's crazy so that she would give him the rights to the Carissimi Group.
"It wasn't explicit that he was going to be a bad character going into it," Collins said. "It was initially told to me that he was a good guy . . . and then, as time went on, the subtexts of the scripts . . . I think around that time Marlene let me in on the fact that Rollins is not 'holier than thou;' he's actually a Machiavellian psychopath who has decided to dupe his wife into believing she's crazy so that he can further his own ends."