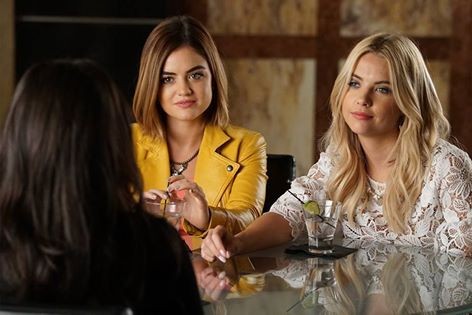 Tuesday's episode of "Pretty Little Liars" gave viewers the answer to who AD, the person who kidnapped Hanna in the Season 6 finale, is. Toby was in charge of finding out more about Elliot's death and his investigations showed that Elliot Rollins' real name was Archer Dunhill, also known as A.D. While that mystery got solved, the Liars are still clueless as to why Jenna has left a message for Archer in his phone.
Is she the Uber A who has been torturing the Liars ever since their return to Rosewood? There are several compelling theories that claim Jenna is Uber A, and according to one Reddit user Jenna and Charlotte may be sisters. "Could she be Mary's daughter aka Charlotte's sister? I know they've made it look like Charlotte hated Jenna and tried to kill her, but if their connection is a well kept secret then it makes sense that they'd hide it," noted Covermaker.
If Jenna and Charlotte are indeed siblings, then it would make sense that she knew Dr Rollins.
Recently, actress Tammin Sursok opened up to Cosmopolitan about Jenna's return to Rosewood, and revealed that her character is involved in a lot of exciting stuff. She also revealed that there is still a lot of mystery on whether Jenna is blind.
"The girls haven't seen Jenna in a year and a half, so it's kind of a big surprise. She's definitely involved in a lot of exciting, tantalizing things that the viewers want answers for. We still tread the line of, "Is she blind? Is she not blind?" She's gonna come back with some gusto, and I'm in most of the season, so it's pretty exciting."
The official synopsis for "Along Comes Mary" reads: "Jenna returns to Rosewood and befriends another one of the Liars' enemies, making her the PLL's number one suspect for Uber A. In order to leave the psychiatric hospital, Ali must be released into the care of a relative, leaving her under the suspicious watch of Mary Drake. Spencer enlists Hanna's help to search for Caleb as he's missing in action. Aria and Emily stumble upon a secret apartment they hope will lead them to more answers."
"Pretty Little Liars" airs Tuesdays on Freeform.