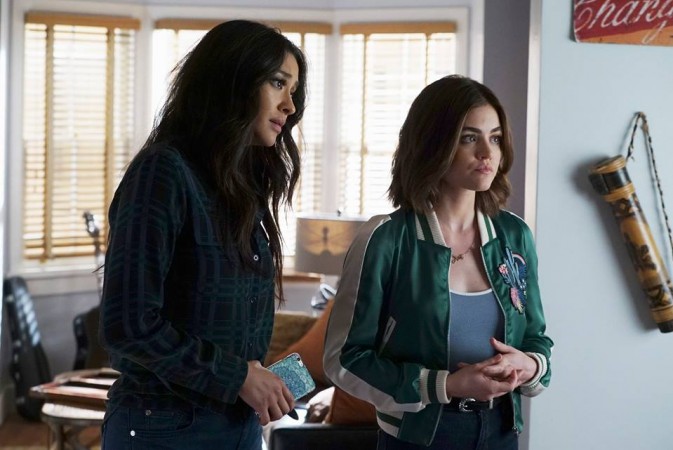 One of the biggest bombshells the penultimate episode of "Pretty Little Liars" Season 7A dropped was that Aria and Jason were indeed together sometime during the five-years we missed out on the Liars' life.
A hint of this was given in one of the previous episodes when Jason invited Aria to dinner with Mary Drake and his sister Alison and the way they acted with each other had sparked speculation of a romantic past. Viewers were given a glimpse of it on Tuesday's episode, and since then a good number of fans have been rooting for an Aria-Jason romance.
Sadly, Ezra is still in the picture, as the episode saw Aria receiving a phone call from her fiancé who informed her that he was heading back home.
Elsewhere in the episode, we saw the Liars digging into Mary's past to find out who her second child is and they seem to have come to the conclusion that Noel is Charlotte's sibling. But it looks like fans have a long wait ahead of them, as showrunner Marlene King revealed in an interview that the big reveal will be made in Season 7B.
"Some people are coming close to figuring it out, which is good," King told Entertainment Weekly. "As we get into these next 10 episodes we've been trying to give enough information where we can't confirm or deny it but fans can figure it out. There are definitely dots to connect to get to the end."
"Pretty Little Liars" airs Tuesdays on Freeform. The midseason finale will air on Aug. 30.
Here are a few comments from Twitter.
Jason and Aria would be so cute tbh!!! #PrettyLittleLiars
— Haley (@glorifydallas) August 24, 2016
how did aria wake up to a shirtless, wet jason and go back to ezra? — cliff's edge stan™ (@lesbianlyzzy) August 24, 2016
JASON AND ARIA GOT ME FEELING SOME TYPE OF WAY DAMN #PrettyLittleLiars
— kinsey (@_kaaawehi) August 24, 2016