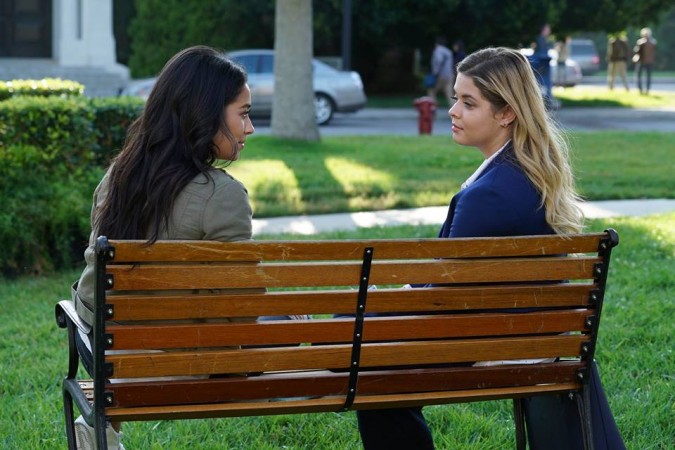 The first half of Season 7 of Freeform's teen drama "Pretty Little Liars" will wrap up next week with the episode "The Darkest Knight" that will kill off yet another character. So far, Season 7 has killed at least three characters – Elliot Rollins, Sara Harvey and of course Charlotte DiLaurentis – but because the drama takes place in Rosewood, one shouldn't be surprised if one of these dead characters suddenly appears in the midseason fianle.
"Pretty Little Liars" executive producer Marlene King has been tightlipped regarding the death in the Season 7A finale. But she did call it the deadliest season of "Pretty Little Liars" and tweeted: "It's not a finale without a creepy doll. #710 kills it. Literally. #PrettyLittleFinale."
King has also dashed rumours that the identity of Mary Drake's second child would be revealed in the finale. While admitting that the second child is someone viewers have already met, King told Entertainment Weekly that a few fans have started connecting the dots.
"Some people are coming close to figuring it out, which is good," said King. "As we get into these next 10 episodes we've been trying to give enough information where we can't confirm or deny it but fans can figure it out. There are definitely dots to connect to get to the end."
The synopsis for "The Darkest Knight" reads:
The Liars face off with their enemies in a chaotic fight that ends fatally. One of the PLLs learns a secret about her past that changes everything while another Liar discovers something about her future that could alter her course forever.
The episode airing on Aug. 23 is titled "The Wrath of Kahn" and it will see one of the liars taking drastic measures to prove Noel is Uber A. "Emily unexpectedly turns to Paige for comfort in her time of need, which causes tension in her other relationships. Jason and Aria team up to look into Mary's past and what she might be hiding," the synopsis reads.