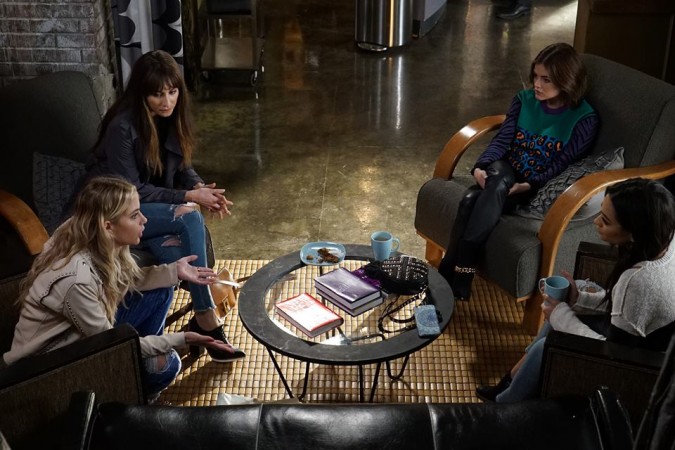 While Season 7 episode 6 of "Pretty Little Liars," which will air on Tuesday, will solve the cliffhanger that was introduced in the previous episode, it will introduce another mystery, as it will feature the death of a key character.
While all the Liars – Aria, Emily, Hanna, Spencer and Alison – are expected to be safe, the plot synopsis indicates that someone will die for playing in the wrong team. While the cast has been mum on who dies, spoilers indicate that it could be Sara Harvey.
Elsewhere in the episode, viewers will see if Aria accepts Ezra's proposal. But fans shouldn't get their hopes high as Marlene King hinted that there are some things preventing Aria from accepting the proposal.
For instance, she hasn't been honest to Ezra about her involvement in Elliot's apparent death. On the other hand, it looks like Ezra too hasn't been too forthcoming with his would be partner. The mysterious phone call from Nicole, who is also believed to be dead, is sure to pose problems.
"There are some reasons why she doesn't feel like she's been completely honest with him, like the death of Elliott Rollins and that they buried that body, so her hesitation is really about that. Like, 'How can I say yes if I haven't told him the truth about everything?'" executive producer Marlene King revealed to Entertainment Weekly.
Even if Aria and Ezra do not end up together, fans shouldn't lose heart, as Season 7 is said to be the most romantic season of "Pretty Little Liars." "...there's many, many happy endings waiting for our characters and fans. We just have to wait and continue on this winding path as we move forward," King said.
Season 7 episode 6 is titled "Wanted: Dead or Alive" and the official synopsis reads:
The Rosewood P.D. begins to unravel the Liars' cover-up, which leads them to question Rollins' death altogether. Hanna deals with an inward battle on whether or not to tell the cops the truth, while Ezria struggles with an awkwardness in their relationship. Jenna reveals part of her plot and a new partner she is in cahoots with. Ali learns that the Liars gave her up as Charlotte's killer in order to free Hanna, which does not go over well. Meanwhile, someone is murdered for playing with the wrong team.