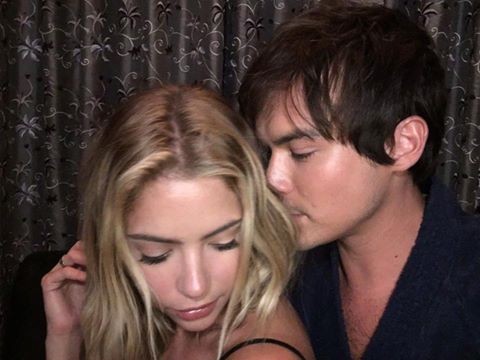 This Tuesday's episode of "Pretty Little Liars" will feature a surprise proposal, and according to executive producer Marlene King, it is extremely emotional. Without revealing which couple gets engaged, King said in a tweet that the proposal is "extremely beautiful. Makes me cry every time I see it. #PLLProposal."
In an earlier interview with Variety, King also revealed that the proposal will make fans of the original ships really happy. "I think for fans of the original ships, it's going to be a very magical and rewarding proposal. I cried and a lot of people cried at the table read for that episode, and I really cried when I saw it. You don't have to wait for the finale to see it. I think it's going to make a lot of people happy!" King said.
Here's where the relationships on "Pretty Little Liars" stands as of episode 4.
Spencer and Toby: The previous episode revealed that Toby was already engaged to Yvonne. Therefore, it's safe to assume that he won't be getting together with Spencer anytime soon. But Keegan Allen doesn't want fans to give up on Toby and Spencer anytime soon. The actor told HollywoodLife that there's always hope for the couple and that "both of them know they deserve each other."
Aria and Ezra: The couple has broken up a number of times since Season 1, but every time they manage to find their way back to each other. Season 6B saw the hooking up and the duo seems to be on their way to the wedding chapel.
Caleb and Hanna: They two aren't exactly together now, considering it hasn't been long since Hanna called off her engagement with Jordan. But Caleb did reveal that Hanna will always be a part of his life and that he will always love her.
Emily and Alison: Emily may be the only Liar who stood by Alison while she was being mentally tortured by her husband Elliot. It is time the two speak up about their feelings for one another and decide to take their relationship to the next level.