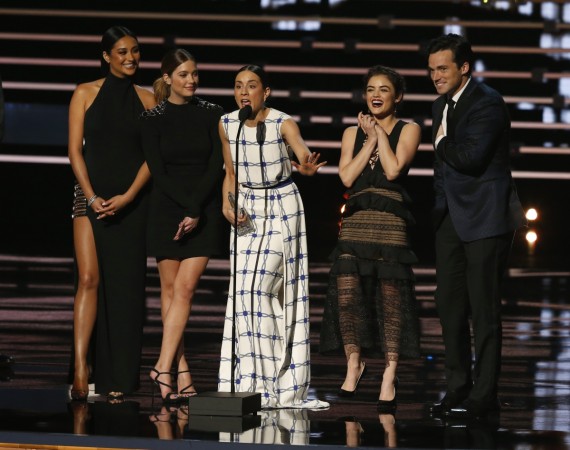 After the major plot took a twist in the premiere episode, the second episode of "Pretty Little Liars" Season 7, titled "Bedlam," continued its drama. Emily's attempt to rescue Alison from the psychiatric facility took a positive turn when she started to figure out the connection between Mary Drake and Dr Rollins after receiving a disturbing phone call. Also, the return of Hanna marked a new twist in the love triangle between Spencer, Caleb and her.
The episode, which was filled with romantic turmoil, featured a soundtrack that was befitting of its plot developments. The first song to highlight the intense emotional aspect of the episode was "Six Feet Under" by Billie Eilish. A delicate and mellow track with a chilled-out vibe, it acted as the background score to Caleb and Spencer's conversation about Hanna. Lyrically, the song talks about a heart-breaking end to a relationship and it was befitting soundtrack to a relationship that will perhaps end by the next episode.
An emotional and acoustic extravaganza arrived in the form of "Go Try" by Wilsen when Lucas asked Hanna about the package that he sent to her. This package was meant to be put to use as an investment for her own design studio, a thing which she had looked forward to for a long time. The acoustic guitar-driven and folk-influenced "Go Try" was quite symbolic to the scene as the song talks about hopes and dreams.
Hanna's flashback scene (when she met Jordan while working at a bar) also had an acoustic guitar-driven track. However, "No Sleep To Dream" by Zella Day, the track featured in the scene is an upbeat one. The upbeat theme of the episode's continued with "Waving Wild" by Arum Rae when Hanna surprised Jordan by showing up in his office. The last song to be featured in the episode was "Talking In Your Sleep" by Moon Taxi's Spencer Thomson, played during the time Emily introduces herself to Mary Drake.
Conclusion
Overall, I think that, upon listening to the songs featured in this week's episode, you can get a basic idea of the episode's general atmosphere even if you are yet to watch the episode itself. It was an apt soundtrack for an intensely romantic episode.