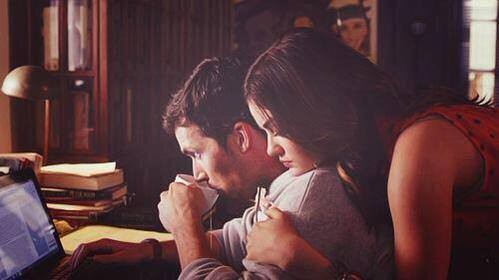 "Pretty Little Liars" will return for a brand new season next month, and it is sure to be packed with a lot of drama and suspense, as the previous season ended with a seemingly dead Hanna being kidnapped by the new big bad who will henceforth be known as the Uber A. Hanna's fate remains a mystery, but actress Ashley Benson recently revealed that her character is alive, but in grave danger.
Despite all the new danger the Liars have found themselves in, there will be celebratory moments, and one of the occasions is a wedding. Recently, executive producer Marlene King revealed that one of the couples on the show will get hitched. "Have you heard the wedding rumors? They're true!" King tweeted. "There will be a #PLLWedding in season 7. #MostRomanticSeasonEver."
Who will get married is still a mystery, as most of the couples weren't doing too well as a pair when Season 6 ended.
Caleb and Hanna: The pairing of Caleb and Spencer took a lot of fans by surprise, as Caleb was involved with Hanna and Spencer was with Toby when Season 6A came to an end. However, it looks like these two have unresolved feelings towards their former partners, and Season 7 will explore that.
"Haleb, we obviously realized [in the finale] that they still have strong emotions for each other and some unfinished business, but it's by far become our most complicated relationship on the show, now that Hanna has given Spencer the OK to fall for her ex. And Hanna is still engaged so there's a lot of complexity going on there," King told Variety in March.
Spencer and Toby: Season 6 finale also hinted that Spencer and Toby will reunite in the coming season. "I think the most telling thing about Spoby was how Caleb snapped at her at the end of the episode because he had such strong feelings toward Hanna's disappearance, and that look that Toby gives is very telling. So that's what I'll say," said King.
Aria and Ezra: Aria is still dating Liam, but the previous season saw her sleeping with Ezra.
Emily: Emily hasn't had a significant other for a while, but things will look up for the character next season. . "I do think Emily will find some love — some type of love — this season," Shay Mitchell told Alloy Entertainment. "With who? I can't tell ya — you gotta stay tuned. But, um, yea, I think she's going to have a little bit more upswing in the love department."
"Pretty Little Liars" will return to Freeform on June 21.