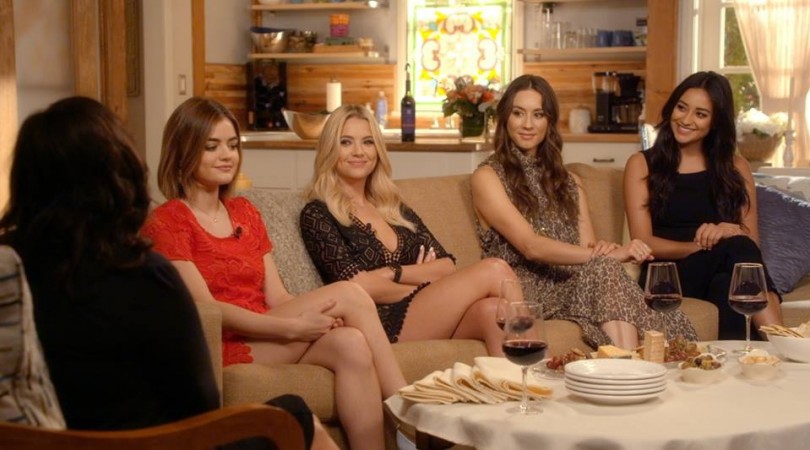 In less than two months, "Pretty Little Liars" will return to ABC Family with a brand new episode that will see the Liars well-settled in their lives.
A sneak peek from the second half of the season, as well as Tuesday's special "Five Years Forward" episode gave fans a glimpse into what the Liars have been up to in the five years since they left Rosewood.
It has already been revealed that Spencer and Toby will drift apart when the former leaves Rosewood to make a career as a lobbyist. But there's still hope of reconciliation.
Executive producer Marlene King on Wednesday posted on Instagram a still from season 6B that showed Toby and Spencer together. "#Spoby season 6B #prettylittleliars. Onward. We continue. Drama ensues. Stay tuned to see if love prevails. #5yearsforward," she captioned the picture.
Even if they do get together, things will be difficult for Toby and Spencer, as Tuesday's special episode hinted at a person named Lyvonne Phillips becoming an important part of Toby's life.
Toby meets her after he saves her from a burglary. However, at present, not much is known about the character.
As for the relationship status of the other Liars, Emily seems to be single and Hanna is engaged to someone who isn't Caleb. Aria, in the meantime, is dating someone named Liam and Alison is married to Dr. Rollins. Spencer is single.
Here are a few other takeaways from Tuesday's special:
Paige and Emily might start dating again in season 6B.
Ezra is an alcoholic
Tyler Blackburn's Caleb will be showing a lot of skin.
Not everyone is enthusiastic that Charlotte will soon be released from the psychiatrist ward. Mona is one of them.
Emily seems to be the one person who is most damaged by what happened in the past. She also loses her dad, forcing her to quit college. "I think Emily comes back with the biggest secret" said King, but refused to drop any other clues regarding the storyline.
"Pretty Little Liars" returns on 12 January on ABC Family.