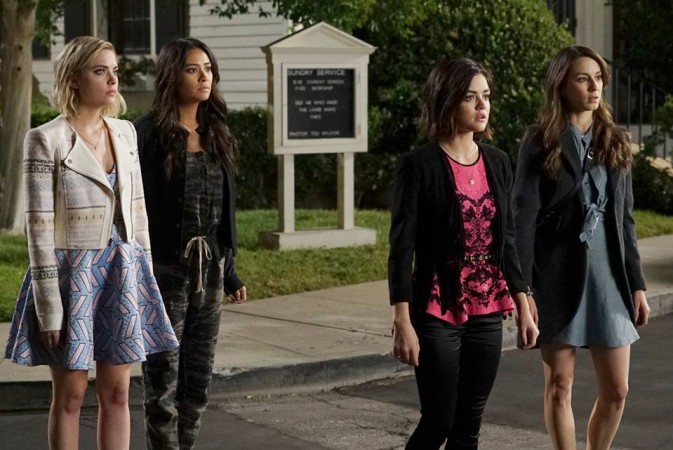 "Pretty Little Liars" will soon take a time jump that will see the Liars bidding adieu to Rosewood High School and entering a new phase in their lives.
Soon after the Charles mystery is solved in episode 10, the show will take a five-year time jump that will see the Liars busy in their professional lives. This will also see the introduction of two new men, who according to TVLine, will recur in the second half of Season 6.
One of the new male characters is named Jordan, a 27-year-old working in the fashion industry, and the other, Liam, is a 24-year-old editorial assistant from Boston. TVLine pointed out that these new additions hint that at least two of the girls will be working in either publishing or the fashion industry.
Chances are also high that the Liars wouldn't remain best friends post the time jump.
"It's just cool to see how they've evolved," actress Lucy Hale told People in May, regarding the time jump. "From my knowledge, they're going to go their own separate ways for a little bit."
"For the first time, we get to venture out of high school, we get to grow up a little bit. We haven't shot these episodes yet, but we're doing hopefully a significant time jump," Hale said.
Recently, executive producer Marlene King too opened up to ETOnline about the time jump, saying the Liars will now get a chance to make more grown-up mistakes and decisions. She said the actresses who essay the roles of Emily, Hanna, Aria and Spencer, have all outgrown their teenage years and it was necessary to speed up things in Rosewood.
"We just felt that when we ended this story it came at such a great time to just reset and jump to five years later where our actresses will be playing closer to their age," King confessed. "Getting to be more grown-up, and getting to make more grown-up mistakes, and grown-up decisions."
"Pretty Little Liars" airs Tuesdays on ABC Family.