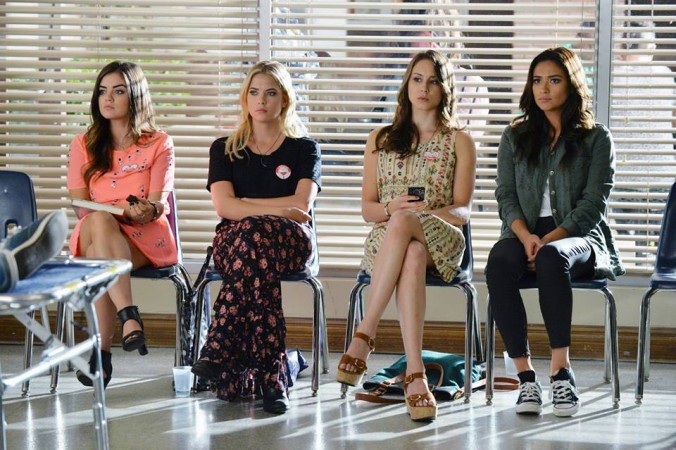 The A game is going to get darker in the upcoming season of "Pretty Little Liars", as the Liars are going to be punished for trying to escape Charles' dollhouse.
The season 5 finale saw the girls' attempt to escape the dollhouse, but they soon realise that their tormentor has fenced them in. Just when they thought Charles couldn't get worse, "his games take a more demented and darker turn," which could result in Mona being separated from the Liars.
The promo photos show Mona locked up in a separate room that resembles a crumbling prison, and the promo video shows Mona lying on the floor singing to herself. Chances are Charles has locked up Mona in a separate room from the Liars so as to break her sanity.
Also, speculations are rife that the Liars will attempt to leave Mona behind, as the promo has someone sounding similar to Mona yelling "Please don't leave me here."
Actress Janel Parrish, who plays Mona, recently spoke to People about how the dollhouse will mess up with everyone's minds, and she noted that all the girls will have some serious scars.
"I honestly think that we should be concerned for everybody's mental state when they're free. Because we're going to start seeing in season 6 that the girls are going to be punished for their actions by A, and slowly we'll start finding out more about what exactly happens to them, and I think that they're all going to leave the dollhouse pretty messed up. … Everyone is going to have some serious scars when they leave the dollhouse."
Meanwhile, the first episode of season 6 titled "Game On, Charles" will pick up moments after the events of season 5 finale, and the girls will be gearing up to deal with their angry tormentor. They will also start putting together the puzzle of Charles' story.
Elsewhere, Ezra, Caleb and Toby will continue the fight to find the girls
"Pretty Little Liars" Season 6 premiere on Tuesday, 2 June, 2015 at 8 p.m. ET on ABC Family.