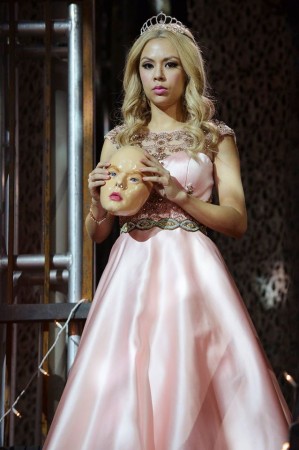 The season 5 finale of "Pretty Little Liars" saw A, also known as Charles, giving Mona a gas mask. Although she did not get to use it in the episode, A does not give gifts without any reason, and the gas mask is going to play an important role in the next episode.
The new season will return with the episode titled "Game On, Charles" and according to Janel Parrish, who plays Mona in ABC Family's teen drama, Mona will not be left off the hook for trying to escape, even though she is A's favourite.
The girls will still be trapped in the dollhouse when the next season airs, and the episode will pick up immediately after their one and only attempt to escape fails.
Mona "will be treated differently because she is [Charles'] favorite," but that doesn't mean she will be forgiven. "[Mona] will ultimately still be punished," she told Entertainment Weekly.
Meanwhile, fans have come up with some interesting theories on why A would give Mona the gas mask. While some feel Charles wanted to save Mona as she was his Ali doll, others feel the mask gives a crucial hint to A's identity.
Here are two theories posted on Reddit:
"After prom, he'd fumigate the room and I remember Mona saying 'Alison is the only one he wants to keep.' But I guess that didn't happen because of their camera trick that shut off the electricity," speculated one fan.
Another theory read: "Mona receives a gas mask from A. When was the last time we saw a gas mask...season 4. It made me think of the dreaded Ezra is A flop, but we don't know Charles' deal? Is he an identical twin or is he a fraternal twin posing as a character we do know?
"I don't think it's Ezra but what could be the significance of this gift? A/Charles wanted to keep Mona and get rid of the others because she was his Ali doll. But why not take the real Ali?
"Also: The song at prom is Unwritten by Natasha Bedingfield. The clues in this song are pretty straightforward. Something must have happened at this prom, besides possibly not attending. Honorable mention: Maya was brought up and I don't think it was just for a pretend fight dialogue. This is probably what Maya Knew."