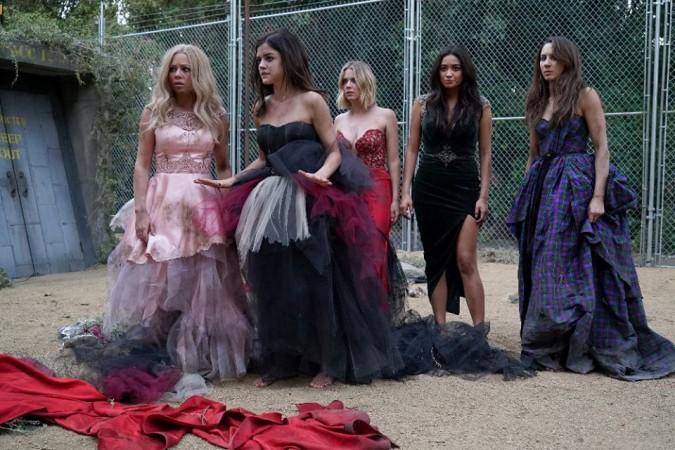 There are just a few more episodes to go before the Liars in "Pretty Little Liars" learn the truth about A aka Charles, the hooded villain who has been troubling them for years.
The previous episode of the teenage drama saw Aria finding out that A could be a girl, but executive producer Marlene King immediately took to Twitter to clarify that A is Charles, and she wasn't lying when she first revealed A to be Charles in the season 5 finale.
In addition to A and his backstory, the members of the A-team will also be revealed in the midseason finale, which will air in August. Other mysteries that will be solved in the summer finale include the identities of the Red Coat and the Black Veil. Although the Red Coat was worn by both Alison and her pal CeCe as a disguise, viewers are yet to find out who the real Red Coat is.
Although not confirmed, several fan theories state that the Black Veil is in fact the Red Coat and she assumed her new identity after the Thornhill Lodge's fire.
King also revealed in an online Q&A session with "Pretty Little Liars" fans that the mask Charles wears is actually a balaclava.
Meanwhile, the next episode of "Pretty Little Liars" entitled "No Stone Unturned" will see the Liars gathering proof to convince authorities that Lesli could be Charles.
The official synopsis of the episode reads: "With all signs pointing to Lesli as the tormentor in the hoodie, the PLLs are on a mission to get concrete proof before bringing their findings to the police. But as the girls ramp up their investigation, "A's" threats escalate.
"Meanwhile, a friend of Emily's makes her a surprising offer and Spencer is pressured by her family to make an important decision."
"Pretty Little Liars" airs Tuesdays on ABC Family.