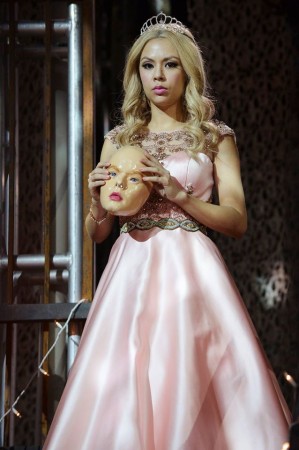 With less than a week to go before season 6 of ABC Family's "Pretty Little Liars" airs, speculation on who Charles is and what his motive could be have gained momentum.
The last we saw of the Liars – Aria, Spencer, Emily, Hanna -- and Mona, they were all trapped in a compound outside Charles' dollhouse. From what has been revealed by the cast and crew, the upcoming few episodes will see the Liars getting punished for trying to escape.
And these punishments could be gruesome, as Charles has been planning his revenge for a long while now.
Actress Janel Parrish, who essays the role of Mona, told ET that Charles has been planning to destroy the Liars even before Mona became A.
"Charles' thing -- his revenge, whatever he's looking for, whatever makes him want to be 'A' -- has been happening for way longer than Mona's motives for being 'A' were. They are way bigger than anyone could've ever imagined, and there will be more on that and it's pretty crazy! But Charles has been planning this thing for a lot longer than when Mona was even wearing the hoodie," she said.
Based on a sneak peek of season 6, Alison will be out of prison and she will urge the media to help find her friends who have been captured by a faceless monster.
"One month ago, my friends were kidnapped by a faceless, nameless coward, the same monster who attacked Mona Vanderwaal and framed us for her murder," Alison tells the press, crying. "We now know that Mona is alive, but she is in grave danger, as well as my friends. I am so thankful to be home with my family, but I would do anything to see my friends again. My friends have always been my rock. Without them, I am lost in the woods, totally alone."
"Pretty Little Liars" returns to ABC Family on 2 June.