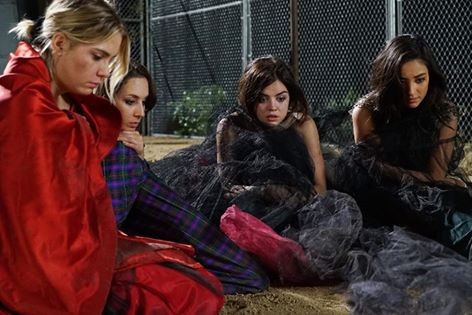 The promo for the upcoming season of "Pretty Little Liars" revealed that the Liars are going to be punished for trying to escape from Charles' dollhouse.
And it seems like Janel Parrish's Mona, who was shown to be alive in the season 5 finale, gets the worst kind of punishment, as the promo showed her stuck in a dark cell away from the other Liars.
Talking about what's in store for Mona and the Liars, Parrish told ETOnline that every girl gets a different kind of punishment.
"Every girl gets a different type of torture that, again, you'll find out more about as the season goes on, but it's dark -- it's really dark. It kind of reminds me a little bit of Saw. The puppet-master plays these games with them, and if they do something wrong -- they're punished. That's what happens this season. It's pretty crazy, but I think the fans are going to like it. It's kind of a different feel to the show," Parrish said.
Speaking about the theme of the season, the actress said that season 6 will be darker than the previous seasons and that it will deal with repercussions. Even after the girls escape Charles' prison, they will be haunted by what they had to suffer and witness there, causing most of the Liars to have post traumatic stress disorder.
She also noted that that there will be disturbing flashbacks that will detail what the girls had to go through in the dollhouse.
As for the most important scene of the premiere episode, Parrish said the first few seconds are going to cause a lot of chatter on social media platforms.
"I think the most unexpected moment is actually right in the very first scene of the season six premiere. Something totally unexpected is revealed in a scene that has already been shown and nobody would have possibly known that there was another angle to it," Parrish said.
"But the scene will be replayed and something will be revealed, and everyone will just be like, 'Wait, what?!' I know I was like that when I read the script, I was like, 'What do you mean? What are you talking about?!' It changes everything. So I think just the first two seconds of season six will break Twitter."
"Pretty Little Liars" airs Tuesdays on ABC Family. Season 6 will premiere on 2 June.