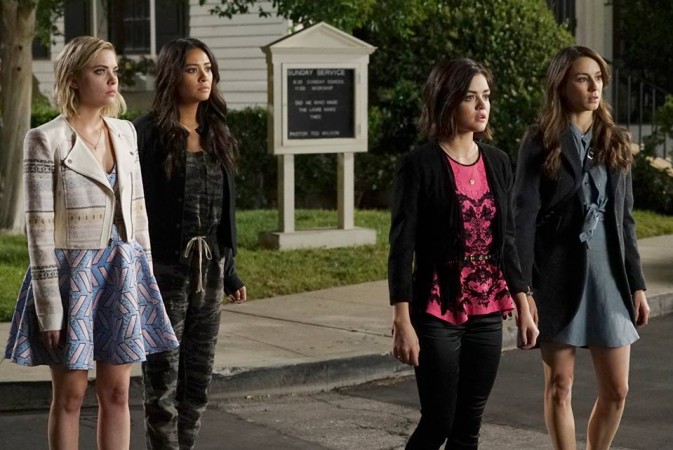 Season 6 of ABC Family's "Pretty Little Liars" is going on a short hiatus, with the sixth episode of the season entitled "No Stone Unturned" set to be aired only on 14 July.
According to TV listings, "That 70s Show" will replace "Pretty Little Liars" this week at 8 pm EDT.
When the PLL comes back after a week's break, it will continue its summer of answers with the Liars trying to find out more about Lesli, Mona's friend whose testimony landed the Liars in jail in season 5.
Lesli reappeared in the previous episode and threatened Mona with consequences for causing problems in her life. Following this, Hanna and Spencer found Mona trying to steal Lesli's file out of Radley, and it was soon revealed that Lesli was at the sanitarium with Mona, Bethany and Charles DiLaurentis.
After last week's shocking revelation that A could be a girl, the Liars now suspect Lesli to be A or part of the A team. And in "No Stone Unturned" the girls will try to gather more evidence to prove their theory.
But this might prove to be a difficult task, as executive producer Marlene King revealed during a Twitter chat that Charles is A.
But could Charles really be A?
DiLaurentis revealed in an earlier episode that Charles, Jason and Alison's elder brother, took his own life when he was 16. So, if Charles is really dead then someone is posing as him and hurting the Liars for reasons known only to him.
The other possibility is that Charles is still alive and he faked his death to get out of Radley.
The answer to all these questions will be revealed in the 10th episode of the season.
Meanwhile, the synopsis for "No Stone Unturned" states that A is going to escalate his threats as the Liars start digging up his truth.
The synopsis reads: "With all signs pointing to Lesli as the tormentor in the hoodie, the PLLs are on a mission to get concrete proof before bringing their findings to the police. But as the girls ramp up their investigation, "A's" threats escalate. Meanwhile, a friend of Emily's makes her a surprising offer and Spencer is pressured by her family to make an important decision."
"Pretty Little Liars" gets aired on Tuesdays on ABC Family.