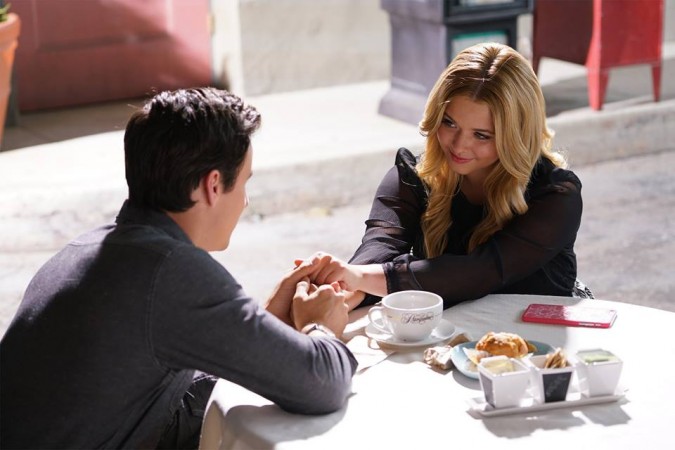 Season 6 of Freeform's "Pretty Little Liars" will come to an end next week with the episode "Hush Hush Sweet Liars," which according to executive producer Marlene King will be the beginning of one of the biggest reveals.
In an earlier interview with TVGuide, King revealed that by the end of the final episode of the season, fans will know who is related to Uber A.
The penultimate episode saw Alison taking a tumble down the stairs, and while recuperating, she was left wondering if her accident was really that or if someone was trying to kill her. Uber A has upped his game and in the last episode the villain proved that he wouldn't stop at anything until the Liars reveal who Charlotte's killer is.
At present the Liars do not know who killed Alison's sister, but several fan theories point towards Dr Rollins being Uber A. After all, he was Charlotte's doctor and knew her modus operandi. This could explain why he is using similar tactics to torture the Liars.
"As a psychiatrist and Alison's boyfriend, Dr. Rollins would have inside information on the Liars, their fears and perhaps even some of their secrets. He would also be able to appear innocent because of his training in mental health," wrote PrettyLittleClues.com.
However, according to actor Huw Collins, who plays Alison's onscreen husband Dr Rollins, his character shouldn't be on the suspect list. When Teen Vogue asked the actor is Dr Rollins could be trusted, Collins said that so far he has been trustworthy.
"Speaking for his actions, yes, I'd say so. So far, he's a trustworthy guy. I think he's been very respectful of Alison. There's been lot of taboos around their relationship. They've have had to suppress any romantic feelings for each other for a long time, because it would have disrupted Charlotte's progression as his patient. Now they're allowed to express it, so that's why you're seeing an acceleration of their relationship," Collins said.