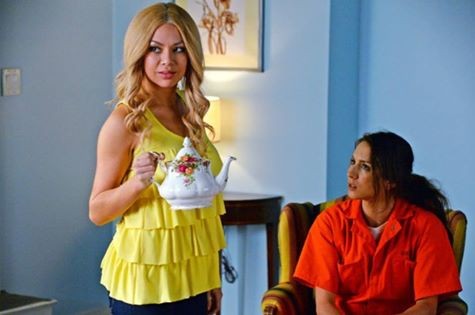 "Pretty Little Liars" fans will have to wait until June for a new season of the teenage high school drama that transformed into a thriller mystery in the season 5 finale titled "Welcome to the Dollhouse."
The previous season ended with the girls trying to escape A's captivity, but they soon realise they are in a fenced compound and escaping wouldn't be as easy as they believed. The next season will pick up immediately following the events of the finale, and the first 10 episodes of the season will follow A's story.
The first half of the season is also expected be the beginning of the end of A's storyline, and King hinted the same with a tweet saying: "The next episode I write for PLL will be titled 'Game Over, Charles.' #PrettyLittleSummer."
"We will start next season right where we left off, with the girls trapped and they don't get out immediately," executive producer Marlene King told E!Online, adding that "season six takes place in a very condensed period of time"
While the first couple of episodes will focus on the Liars trying to escape A's house, as the season progresses one main character will return to Rosewood. Paige, Emily's ladylove, who moved to California is season 5, is all set to be back. "Not right off the bat in Season 6, but I will say that you will see Paige," King told Zap2It. "I don't want to give away the story -- she's not in the first couple episodes, I'll say."
This means, there are chances season 6 is going to be heavy in the love department. "It's been so intense as we ramp up to this finale that we've been on this major mystery train and we're all missing a little romance," says King. "I promise you when we come back, we're going to be a little on the romance-heavy side as we ramp up to the end of the story. It feels appropriate."
Besides all this, the show will take a four year time jump in the second half of season 6, meaning fans won't be a part of the Liars' college experience. But they might get glimpses of it through flashbacks.