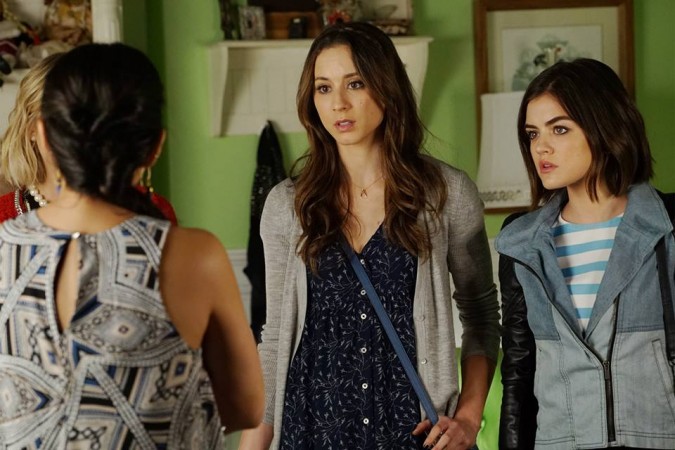 As just a few more episodes are left before the mid-season finale of "Pretty Little Liars", which will hopefully wrap up the Charles aka A mystery, the puzzle pieces are finally falling into place.
Executive producer Marlene King dropped another clue to the Charles mystery on her Twitter page, writing: "The truth is just around the corner. Literally," hinting it won't be long before the Charles mystery is solved.
Tuesday's episode saw the Liars realising that Charles is still out there and that he has been tracking their movements, thanks to the microchips that he inserted in the back of their necks. The episode also saw Mr DiLaurentis getting a creepy message from his now-grown-up son, who was believed to be dead, announcing that he will be coming home for his birthday.
"Dear Daddy, Coming home for my birthday. You should plan a party to die for. Just you. Love, Charles," the message read.
In the next episode, titled "O Brother, Where Art Thou", we'll finally see one more clue to the A mystery being solved.
Spencer seems to have finally found out A's identity and in the promo video, she shows Toby a piece of paper with A's picture. The promo also shows that A is finally closing in on the Liars, and everyone who is close to them.
According to the official synopsis of the episode, Mr DiLaurentis will attempt to get out of town with Jason and Alison so that Charles does not hurt them. But, Jason does not want to go as he sees this as an opportunity to "finally validate all of the early childhood memories" of his brother Charlie.
The Liars too are split, with Spencer and Hanna seeing this as an opportunity to finally capture Charles, and Emily and Aria leaning towards staying as far away from all the Charles drama as possible.
"Will Jason be reunited with his brother, or is this just another one of "A"'s traps? Meanwhile, Mona is shutting Mike out and Hanna gets an unwelcomed surprise," the synopsis reads.
"Pretty Little Liars" airs Tuesdays on ABC Family.