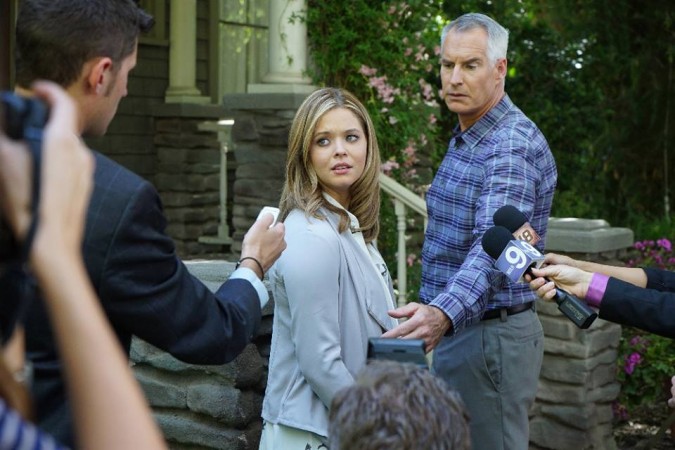 The second episode of the season entitled "Songs of Innocence" saw the Liars, who escaped from Charles' Dollhouse in the premiere episode, dealing with the after effects of Charles' torture.
One of the most twisted things Charles did to the girls was to lock them away in prisons resembling their bedrooms, thereby succeeding in his attempt to emotionally break them even when he wasn't around. The episode saw Hanna destroying her childhood bedroom so that she wouldn't have to recall the torture she suffered in the three weeks she was trapped in Charles' Dollhouse.
As for the other Liars, Emily took to the shooting range to deal with post traumatic stress disorder; Aria decided to put everything behind by lying; and Spencer was seen struggling to deal with the urge to pop pills and forget her pain.
The girls' struggle to forget their three weeks of torture will continue in the next episode entitled "Songs of Experience," but at the same time they will be one step closer to finding out the truth about Charles identity. The promo for Tuesday's episode hints that Jason DiLaurentis remembers someone named Charlie, and a photo album belonging to the DiLaurentis' could provide clues to what actually happened to Charles.
The official synopsis of the upcoming episode also states that fans will see a changed Alison. Supposedly, her time in prison has changed Ali from the mean girl she once was, and a "new friend tries to help her find the courage to start anew and find the 'new' Alison."
As for what the Liars will be up to in "Songs of Experience," the synopsis states that Aria will focus on Andrew to find out how he is involved in their ordeal and if he is the real Charles. Spencer will be on a mission to dig out the truth about Charles from Alison and Jason, and Emily will find a new friend.
"Hanna wants to bring the four friends back together so they can move past what happened in the Dollhouse," the synopsis reads.
"Pretty Little Liars" airs Tuesdays on ABC Family.