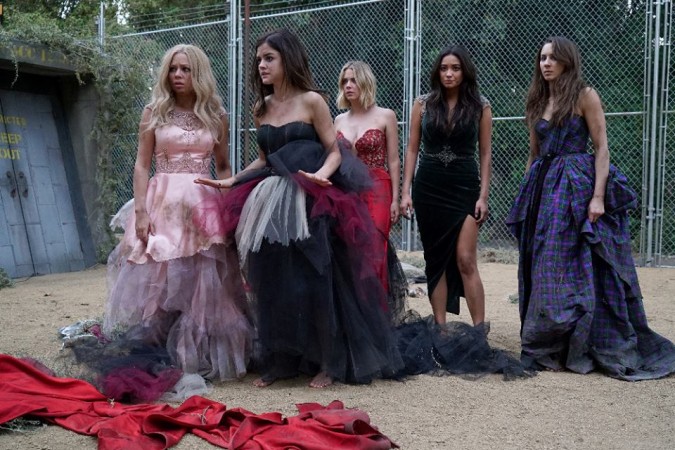 The season premiere of "Pretty Little Liars" did not give fans the answers it promised, but opened up another bag of questions.
The season picked up shortly after the events of the season 5 finale that saw the Liars trapped outside Charles' property. But after three weeks of Charles' shenanigans, the Liars succeeded in their plan to burn down the dollhouse and escape.
However, the final moments had one more surprise in store, as the police found a sixth girl in Charles' dollhouse – Sara Harvey, the girl who went missing the same time Alison did. This means Sara could have been in Charles' custody for nearly two years.
Sara was first introduced to the viewers and the Liars in the season 4 episode entitled "Who's In The Box?" when the Liars went to meet one of Sara's friends, believing Sara could be the girl buried in Alison's grave.
However, it later turned out to be Bethany Young.
It is not yet known how Sara is related to Charles, and why she was kept in captivity. But some fans think Sara and Charles could be the same person.
Meanwhile, the next episode entitled "Songs of Innocence" will see the Liars suffering from post traumatic stress disorder now that they are out of Charles' prison. It does not seem like they believe Andrew is Charles, as even though he is safely behind bars the girls fear they are far from safe.
The official synopsis of the episode reads: "The girls may have gotten out of the Dollhouse but what happened to them during their time of captivity has lasting effects. With worried loved ones watching over them, the PLLs are home and trying to heal, with not much success. Even with suspected tormentor Andrew in custody, Aria, Emily, Hanna, and Spencer fear they are far from safe."
At the same time Alison will be forced to deal with her past indiscretions and her "notoriety around Rosewood," the synopsis states.
"Pretty Little Liars" airs Tuesdays on ABC Family.