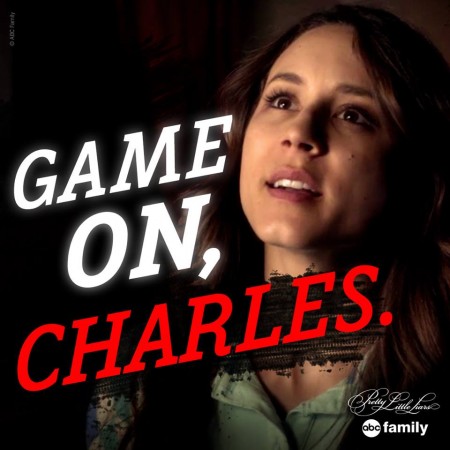 The promo for Tuesday's episode shows Alison questioning her father who Charles DiLaurentis is; and although he denies knowing such a person, the expression on his face says otherwise.
The scene opens with Mr DiLaurentis rebuking Alison for risking her life to save her friends. Alison reiterates that she had to do what she did, and then shocks her father by asking who Charles DiLaurentis is. Although he says he doesn't know such a person, the change in his expression proves he knows who the Liars' tormentor was.
So who could Charles DiLaurentis be? There are many fan theories on who the hooded figure is, with many believing Charles is Alison's brother and Jason's twin, who was sent away when he was just a child due to his issues with gender identity.
"Maybe when Ali opened the two dresses on the Christmas episode, Ali's mom was taking one to Charles. Maybe she supported his gender identity and Mr. d did not so he locked him away," one fan theory reads.
A good number of fans also believe the answer to the Charles mystery lies in Radley Sanitarium.
"Sarah is Charles. gender identity wants to e Ali. starts dressing like her. Ali's dad had him locked up but he learned how to get in and out of radley. nobody visited but mrs d so no one knows what he looks like thats why mrs d was killed. its all about Ali. he wants to be her," another theory read.
Meanwhile, executive producer Marlene King recently revealed that the actor/actress who plays A knows he/she is the villain.
"So here's a scoop. "A" finally knows "A" is "A". #SeasonOfAnwsers," the tweet read.
Tuesday's episode, titled "Songs of Innocence", is going to see the Liars struggling to move past the torture they suffered in the dollhouse. And even though their suspected tormentor Andrew is safely behind bars, the Liars still fear for their safety.
"Pretty Little Liars" airs Tuesdays on ABC Family.