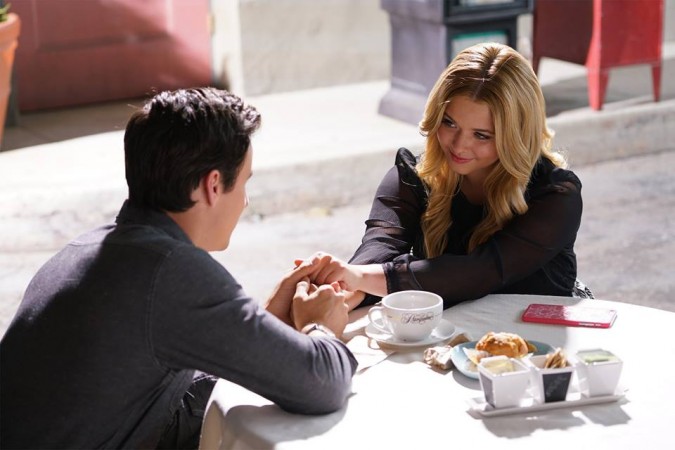 Season 6 of Freeform's "Pretty Little Liars" is heading to an end and the final two episodes are expected to be high on relationship drama, as most of the Liars will be getting closer to their exes.
According to the official synopsis for the episode, Hanna and Aria will be spending more time with their exes, Caleb and Ezra respectively. While Hanna and Caleb will work together to lure out their tormentor, the Uber A, Aria and Ezra focus on his book. As per the synopsis, working on the book "might be more difficult than anticipated."
The summary also hints at Alison getting an unexpected visitor, and speculations are rife that the show is finally introducing the twin element. Fans of the show have for long expected one of the characters to have a twin, as the twin element plays a major role in the Pretty Little Liars book series.
Showrunner Marlene King in a Twitter chat Tuesday revealed that the twin will be introduced before season 7.
"You will see the twin in 6B," King wrote, adding: "You have seen the twin at least once before."
During her Twitter chat, the showrunner also hinted at the possibility of Aria and Ezra rekindling their romance. "There's hope for Ezria before season 7," wrote King.
The official summary reads:
After Alison is confronted with a sudden, mysterious jeopardy, the Liars decide to take things into their own hands for a counterattack. Hanna and Caleb work together to develop a plan to come face-to-face with the tormentor. Emily and Spencer team up to investigate if Mona had any involvement with the murder. Aria and Ezra continue to work on the book though it might be more difficult than anticipated.

Meanwhile, Ali encounters an unexpected visitor.
"Pretty Little Liars" is aired Tuesdays on Freeform.