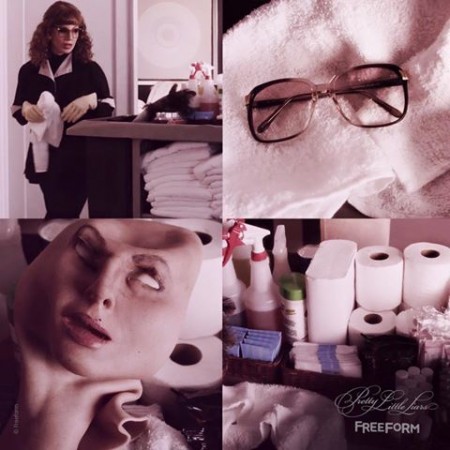 Tuesday's episode of Freeform's "Pretty Little Liars" hints at relationship trouble for Hanna (Ashley Benson), who in the previous episode finally set a date of her wedding.
A promo for the upcoming episode entitled "Burn This" shows Hanna disinterested in a bridal shower, and all hints point toward Hanna still harbouring feelings for Caleb. Sadly, Caleb is now involved with Spencer, and the two seem to be going strong.
The official synopsis for "Burn This" doesn't reveal much about what's in store for Hanna and Jordan, but it does say that the blonde beauty "avoids dealing with her personal life."
Will Hanna's growing affection for Caleb prompt her to end things with her fiancé Jordan? Is there a future for Hanna and Caleb?
Actor Tyler Blackburn, who plays Caleb, revealed in a Twitter chat in January that his character hasn't cast away Hanna from his life. Responding to a question on whether he was Team Spaleb or Team Haleb, Blackburn wrote: "Right now, Caleb is team #Spaleb. Although he will always love Hannah."
In a January interview with MTV, Benson echoed similar sentiments, saying she wanted her character to get together with Caleb. A recent TVLine report noted that fans will soon see Hanna and Caleb working together and this will soon inspire them to "reflect on what could have been."
As for what else to expect in "Burn This", the Liars – Aria, Emily, Hanna and Spencer – realise the danger they are in when the new baddie threatens to harm them if they don't hand over Charlotte's killer.
The official synopsis reads:
After the stalker nearly killed Emily, the Liars begin to take the threats more seriously and attempt to keep their mouths shut to prevent any further harm. Caleb must deal with the collateral damage of taking the blame for the leak about Yvonne; Spencer tries to comfort him and get him to tell the truth. Emily goes on a mission to track down who came after her. Aria and Ezra move forward with the novel.
"Pretty Little Liars" is aired Tuesdays on Freeform.