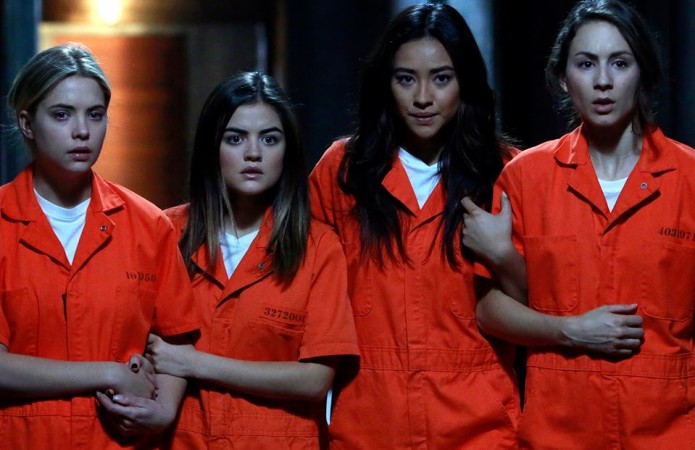 A new season of "Pretty Little Liars" is all set to air on ABC Family on Tuesday, 2 June with the episode "Game On, Charles."
The episode is expected to pick up shortly after the events of season 5 finale that saw the Liars and Mona trapped in a fenced property outside Charles' dollhouse. They have nowhere to go and their attempt to escape has made their tormentor angry.
"Just when The Liars thought Charles couldn't get any worse, his games take a more demented and dark turn. As the girls struggle to survive, the puzzle of Charles' story begins to come together," the official synopsis reads.
The girls won't escape Charles' prison for a few more episodes, and the tormentor's identity is also not going to be revealed until the midseason finale. But here are a few things we can see in the premiere episode, which will kick off the summer of answers.
Alison is freed: The promo for the upcoming season saw Alison DiLaurentis freed from prison after Tanner realized that Mona was alive. A sneak peek showed Alison urging the media to help her find the person responsible for the kidnapping of her friends.
Andrew is a suspect: It is not immediately known if Andrew Campbell is Charles aka A, but the promo video hinted that Andrew was a prime suspect in the kidnapping of the girls.
Season 6 is dark: Charles is not happy that the Liars have tried to escape, and each of them are going to be dealt with severely in the coming few episodes. Janel Parrish, who plays Mona, recently revealed to Entertainment Tonight that each girl was going to get a different type of torture, and that it will have serious repercussions as the season moves forward.
"You'll find out what they are as the season goes on, but yeah it's going to be a darker season, and some darker girls are emerging from this dollhouse."