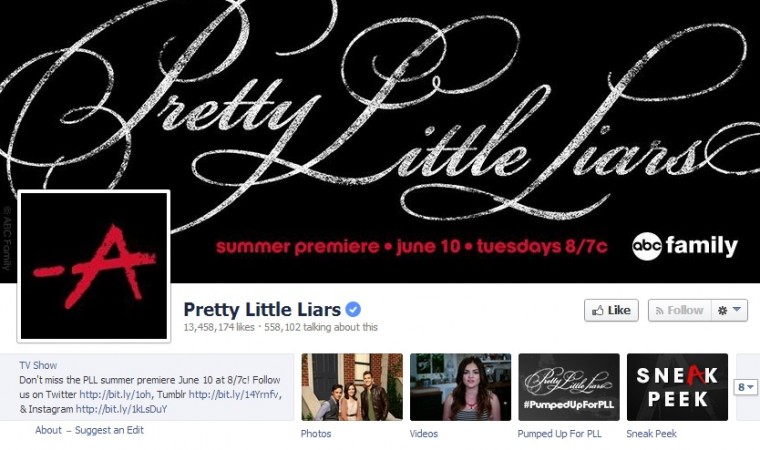 Fans of "Pretty Little Liars" have been wondering for a long time who "A" is, and from the looks of it, the identity of the shrouded figure might be revealed in Season five, which is barely two weeks away.
Season five will premiere on June 10, and ABC Family has released a promo poster as well as trailer of the episode that shows Alison running through the dark streets, before she comes face to face with a shrouded figure.
From the looks of it, Ezra, who is also alive, knows the identity of "A," but hasn't revealed it to the liars as he is still recovering from the shot that nearly killed him.
The season five premiere episode is titled "EscApe From New York" and it starts from where the season four finale left off. While Aria stands guard over Ezra, the others lay out a plan to trap "A." But the person who gets trapped might not be the one they expected.
"No more secrets, Ali," Hanna tells Alison in the promo video. "Either you trust us, or you don't," Spencer yells at Alison and the promo focuses on Alison's tomb, hinting that there might still be secrets that Alison might not be ready to share.
The promo poster of season five shows the five liars in masks, and Alison's mask is cracking, which many fans feel is a hint that something bad is going to happen to her. A section of fans also feel that the cracked mask shows that Alison might not be the person who she claims to be, instead she is the twin, Courtney.
Check out some tweets on who "A" could be.
Dear people who watch pll: A is Alison.. She never died it was her twin sister Courtney who died. Now you can all stfu☺ #spoiler

— guerriero (@Al3xGuerrier0) June 12, 2013
on PLL A is alison's crazy twin courtney. youre welcome. #spoileralert. — Ashton Gibson (@Twerk_dat_ash) June 12, 2013
A is obviously Ali's twin sister Courtney.. Alison probably doesn't remember she has a twin in the show, that's my theory #pll

— damagedlovatic (@DamagedLovatic) March 19, 2014
On what to expect in season five, executive producer Marlene King previously hinted to TVGuide that welcoming back Alison is not going to be easy for the liars and that it is going to affect their relationships.
"[Season 5] feels like a whole new show because there are five Pretty Little Liars now," King said. "It's going to affect them all individually. It's going to affect them as a group. It's going to affect their relationships with their young male and female partners. Season 5 is shaping up to be emotionally the most complex season we've had so far."
Meanwhile, when season 5 returns, Tyler Blackburn, who plays Caleb, will return as a series regular. His return will be featured in Season 5's fifth episode, which will also be the show's 100 episode.
Season 5 of "Pretty Little Liars" premieres on ABC Family on June 10 at 8 p.m.