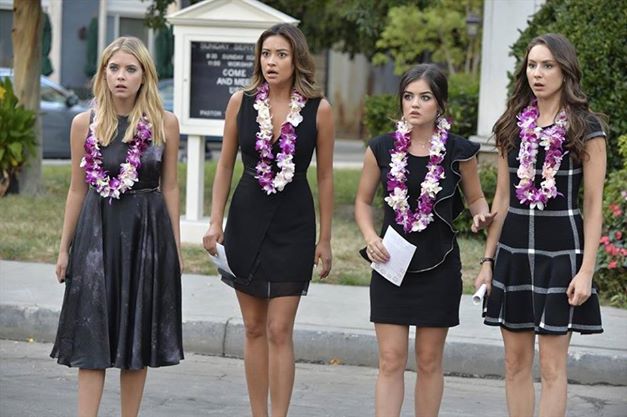 The winter premiere of "Pretty Little Liars" aired on Tuesday, and it saw Alison being taken away as a suspect in Mona's murder. Although the episode featured a memorial service for Mona, her body was still missing, prompting many to wonder if she was indeed alive.
"Pretty Little Liars" fan forums are abuzz with talk that Mona might have faked her own death to get Alison into trouble. The first half of the season saw Mona repeatedly announcing that she was afraid of Alison, and she even formed an army against the blonde. This seems to be an attempt to let everyone know that Alison would be the prime suspect if something was to happen to her.
Another clue is the missing body. If Mona was really dead, as the show wants fans to believe, it would have been better to leave the body at the murder site. But the lack of a dead body has many believing the character could be around. Also, as fans of "Pretty Little Liars" would know, Mona has experience in fake deaths, as she helped Alison fake hers.
Theories also suggest that the body that was shown as Mona's might not have been hers.
"Mona has quite a doll collection as you probably noticed, and she obviously really likes dolls. She's probably a regular visitor at Vail's Doll Hospital, so it couldn't have been that hard to find someone who'd make her a life sized doll. As for the face - remember the creepy mask maker from season 4? There you go," reported Crazy Little Mona, a fan forum.
According to other "Pretty Little Liars" fan forums, Mona fainting in episode 10 also raise a lot of questions. "In 5x10 Mona randomly passes out right before her choir audition. Random, right? There is also a band-aid on her arm. Another band-aid in 5x11. There is a theory that Mona was drawing her own blood to fake her death. It would explain her fainting, randomly," noted Rosewood-Clues.
Lastly, the videotape that shows a blonde allegedly murdering Mona seems to be a convenient evidence against Alison. It is a possibility that Mona staged the entire thing, and chances are Aria is in cahoots with Mona. Clue: - Aria uses Mona's rape whistle when Alison tells her she is innocent.