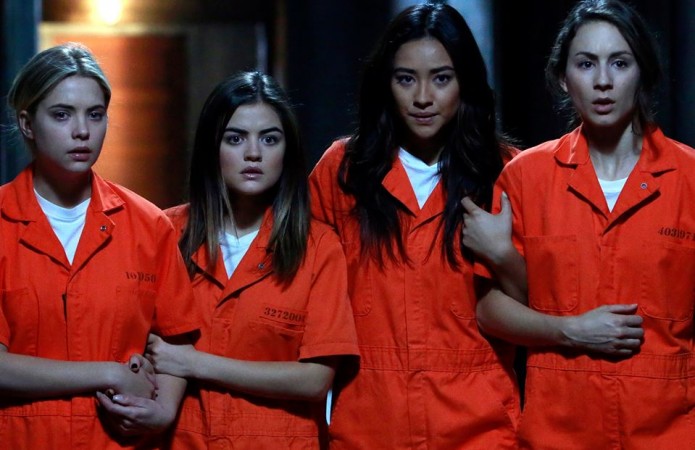 Season 5 finale of "Pretty Little Liars" did indeed reveal who A is, and some fans guessed it right when they said it could be Jason's twin.
Although the villain did not reveal himself to either the audience or the girls, there were sufficient evidence to piece the puzzle together. The Charles anagram as well as the video of Mrs DiLaurentis with two blond boys has fans speculating A is Jason's twin and Alison's elder brother.
While fans will have to wait for season 6 to see Charles' face, many believe we have already seen him and that it could be Andrew. Aria's creepy tutor and current love interest has been acting rather suspiciously in the past two episodes and some believe the character has a strong resemblance to the DiLaurentis.
But what's Charles' motive in hurting the Liars? One popular theory is that Charles could be mentally unstable. Chances are high that he was sent away to Radley's as a child, before the others registered any memory of him being around. Charles wants revenge because he felt abandoned by his family.
Here are a few other theories from fans.
@imarleneking Charles is Jason's twin and Ali's older brother and he wants revenge on the dilaurentis family for sending him to radley

— Hinal (@_hinalpatel_) March 25, 2015
What if Charles is transgender ie why Mrs.DiLaurentis bought two yellow dresses in the Christmas episode #CharlesIsA #PLL #PLLTheory — 3.24.15 BIGAREVEAL (@_xoxolauryn_) March 25, 2015
guys we have the answers #BigAReveal #CharlesDilaurentis @ABCFpll @shaymitch @imarleneking @_livy_xoxo pic.twitter.com/aD0crcN9YD

— Dina (@DDochniak) March 25, 2015
Now that "Pretty Little Liars" boss Marlene King has spilled the big A secret, what's in store next season?
"The big revelation won't be the end of our story. We'll need 10 more episodes after that to really complete this story," King told Zap2It. "We're ramping up to this extremely intense level [in the finale]. ... After that that our show becomes a very different show, because we will have told the end of that story by the end of our summer season. I can't think of any questions that fans have been asking since Season 1 that won't be answered before the end of summer."