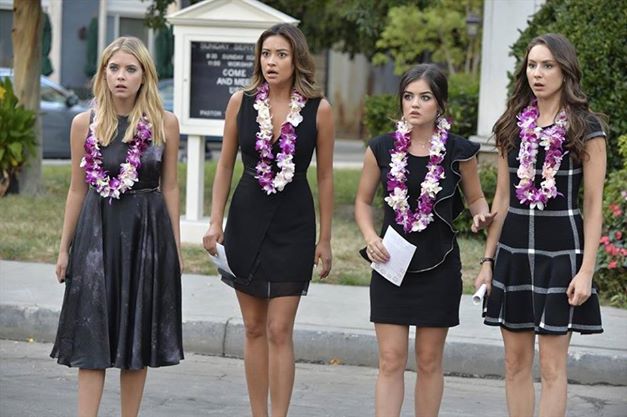 The winter premiere of "Pretty Little Liars" saw Alison behind bars after a video of Mona's actual attack was found, and Jason confessed to lying about his sister's whereabouts on the night Mona was killed.
Jason revealed the truth when Spencer confronted him about lying for his sister, after she realised that Toby's job on the force was not going to help her evade prison. And in the next episode titled "Fresh Meat," Toby and Spencer's relationship is going to get strained after his job commitments get in the way of his relationship.
According to the synopsis of the episode, which airs on 13 January, Toby's job was seen as a way to give the Liars an upper hand in finishing Alison's game. But things do not go that way when new evidence shows up, which puts Toby in a tough situation. "Not one to trust the police or evidence "surprisingly" showing up, Spencer tries to convince Toby to stray from his moral gut reaction, which puts stress on their relationship," the synopsis reads.
Photos from the drama also show Toby walking away from a crying Spencer.
It is not yet sure if Toby's conflict of interest will lead to their break up, but it is unlikely considering he has stuck by her side through her dark times. As fans of the teenage drama know, Toby was a source of support for Spencer during her drug addiction in season 4.
"They're very, very combustible and they're never really far from a fight, but I think that they're doing a good job of supporting each other now, especially after Spencer's turn with the Adderrall addiction and everything," Troian Bellisario, who essays the role of Spencer, revealed to HollywoodLife in an earlier interview. "He's been really wonderful and so I hope he remains supportive."
Also, showrunner Marlene King recently revealed that the second half of the season will focus on romance, and now that Paige and Emily have broken up, it doesn't seem like yet another couple will go down the route.
"This is really the season where we flip-flopped our cycles," King told ETOnline about the second half of "Pretty Little Liars" season 5. "Usually the summer season is more about the romance and sort of the ground work for the story that we then pay off on the flipside. But we essentially made the decision to change that kind of formula."