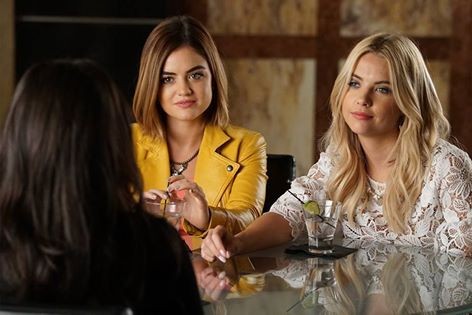 Season 7 of teen drama "Pretty Little Liars," which will be aired next Tuesday, will reveal if Ashley Benson's Hanna, who was last seen being dragged through a church by the new villain, is alive or not. But if she doesn't make it alive, then one thing viewers have to keep in mind is that she died for an important reason, reminds executive producer Marlene King.
"This is still the most romantic, but also the deadliest, season of 'Pretty Little Liars'," King told TVLine. "We don't take deaths lightly here, so everyone who dies does so for a very impactful and important reason."
The synopses for the first three episodes have been released, and it looks like the remaining Liars – Emily, Spencer and Aria – do not succeed in rescuing Hanna from Uber A. For instance, the synopsis for "The Talented Mr. Rollins," the third episode of the season, noted that the Liars will still be reeling from the trauma of Hanna's abduction and dark fate, hinting that she does not survive.
When King was asked if Hanna survives, the showrunner did not give a direct answer, but noted that "Hanna's fate really informs the rest of the season moving forward."
Meanwhile, Hanna's abduction is going to cause a strain in Caleb's relationship with Spencer, and tension continues to mount between Liam, Aria and Ezra as they carry on work on the book. The synopses for the first three episodes are rife with hints that more than one couple will call it quits before the season ends.
The first episode of Season 7 is titled "Tick-Tock, Bit----" and the synopsis reads: "After Hanna's shocking abduction by 'Uber A,' the PLLs and company desperately race against the clock to save one of their own. The only way to do this is by handing over evidence of Charlotte's real murderer to 'Uber A.' In order to do so, the girls must decide what blatant lines they are willing to cross that they have never breached before; and once they cross that line, there is no turning back."
"Pretty Little Liars" Season 7 airs June 21 on Freeform.